Onto Day 7 of our 20 day series of projects using patterned paper (also known as Designer Series Paper or DSP for short). Today we're using patterned paper to transform low cost stationery into a pretty gift to give or keep.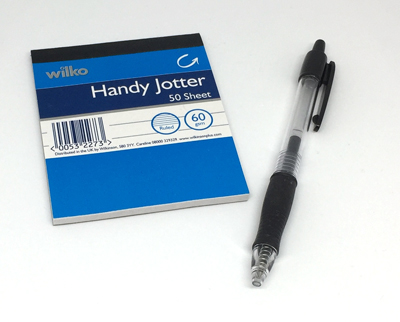 We started with a cheap and cheerful jotter and pen. The jotter/notepad can be any size but one with a plain bound (rather than spiral bound) is usually easiest to work with. The pen needs to have a transparent barrel for the paper to show through .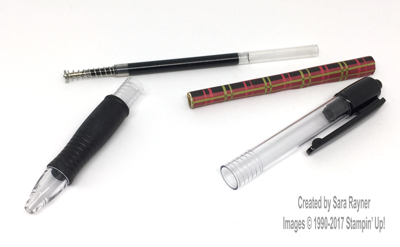 The pen was taken apart (carefully, noting which part went where). A piece of Christmas Around the World DSP was cut to fit the length of the barrel (with the button at the top depressed). In this case it was approx. 3-1/14″ x 1″. The paper was rolled tightly around the central ink stem and the pen reassembled.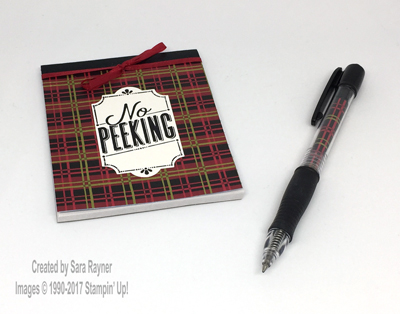 Adhesive was applied to the front of the jotter and Christmas Around the World DSP added to it. Any excess was trimmed away. Real Red Solid Ribbon was wrapped around the front of the jotter at the top of the DSP and then tied in a bow which was secured with a Mini Glue Dot. After stamping a sentiment from Merry Little Labels onto Whisper White card with Basic Black ink, it was punched out with the Everyday Label and adhered to the front of the jotter.
The decorated jotter and pen are now ready for recording Christmas shopping lists.
Thanks for stopping by.
Sara xx
These are the supplies used on this project. If you live in the UK, Austria, France, Germany, or the Netherlands, then click on any product to shop online.