Apologies for the wrong link given in the newsletter. You can book the May Template & Technique Class here.
SATURDAY 13 April 2013
1.30PM – 3.30PM
In April, our card design is a deceptively simple looking flip-flop card and our technique is the currently popular chalkboard. Everyone will receive a half pack of Delicate Details Lace Tape and six of the Tea Lace Paper Doilies to take away with them.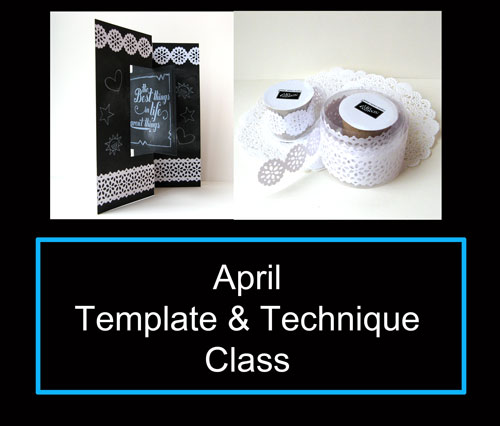 Location: St Saviour's Church Hall, Mortomley Lane, High Green, Sheffield
The £15.00 class fee includes:
a fancy fold card template;
technique card to build into a booklet;
materials to make a complete card that combines the fancy fold card design and technique;
featured SU! product;
face-to-face instruction on the day;
refreshments.
Bookings have now closed for this event but you can book our May Template and Technique Class here