SATURDAY 6 JUNE 2015
11AM – 1PM
You can see right through our June technique class – we're working with window sheets! We'll learn how to stamp on these clear sheets and create two cards and a box.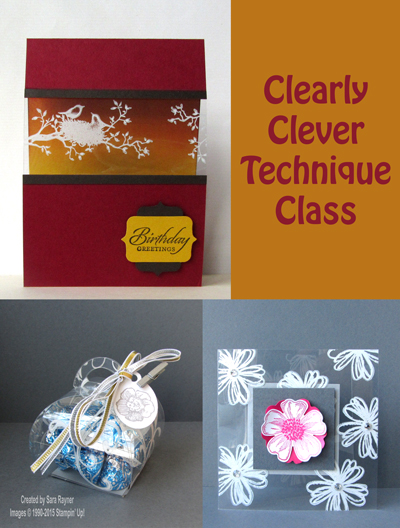 Location: St Saviour's Church Hall, Mortomley Lane, High Green, Sheffield
The £35 class fee includes nearly £30 of products including:
1 pack Window Sheets (1 sheet will be pre-cut for you and the other sheet will be to take away)
White Stazon Pad & Refill
Stazon Cleaner
Packet Basic Rhinestones
1/2 reel Gold 1/8″ Ribbon
1/2 reel Silver 1/8″ Ribbon
1/2 pack Mini Metallic Clothespins
You'll also receive:
all additional materials needed to make the cards (plus envelopes) and the box;
face-to-face instruction on the day;
printed instructions to take away;
refreshments.
If you already have the products we will use in class, then you may substitute other products of equal or lesser value at the point of booking.
Class fees must be received by Wednesday 27 May to secure a place (to allow sufficient time to order your kit). If  an emergency prevents you from attending the event after booking, then your class materials will be posted to you.
Bookings for this class have now closed. Please email Sara to register interest for future classes.