SATURDAY 12 January 2012
1.30PM – 3.30PM
I'm changing things around again for our 2013 classes!
Well, I don't like my classes to get stale 

Each month we'll be:
learning a fancy fold card design;
creating a template for the fancy fold design to take away to use and re-use;
learning a new technique which we'll build into a booklet; and
combining the technique and the template to create a card
Each class attendee will also receive some SU! product to use on their project and  also take away for future use. This product will vary from month to month according to the technique we are featuring.
Please note that future month classes may build on previous ones and in some classes we may refer to  techniques and products already covered. Tutors will always be on hand though, to help out anyone who missed previous sessions 

In January, our card design is a hidden message card and our technique will cover how to use Shimmer Paint. Everyone will receive a bottle of Champagne Shimmer Paint to use and take away with them.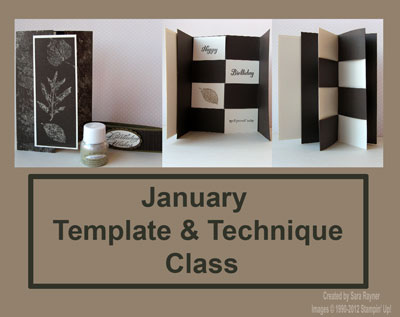 Location: St Saviour's Church Hall, Mortomley Lane, High Green, Sheffield
The £15.00 class fee includes:
a fancy fold card template;
technique card to build into a booklet;
materials to make a complete card that combines the fancy fold card design and technique;
featured SU! product;
face-to-face instruction on the day;
refreshments.
Please use this button to book now: