SATURDAY 5 October 2013
1.30PM – 3.30PM
We have a slight shift in schedule in October. Although classes are usually the 2nd Saturday each month, we've had to switch this one to a week early, so we can stay at the same venue, so please note the change in date.
In October, we'll be making an illuminated twisted easel card and learning a few different ways to easily create glittered frames and shapes. There'll be a chance to either heat emboss the snowflakes, or simply stamp them as here. Included in the class cost, everyone will receive a small tub (28.4g) of Silver Glass Glitter and a battery operated tealight.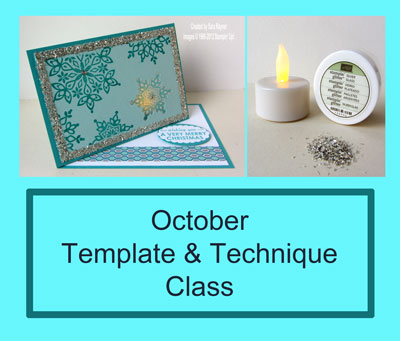 Location: St Saviour's Church Hall, Mortomley Lane, High Green, Sheffield
The £15.00 class fee includes:
a fancy fold card template;
technique card to build into a booklet;
materials to make a complete card that combines the fancy fold card design and technique;
featured SU! product;
face-to-face instruction on the day;
refreshments.