Day 10 means we're half way through our 20 day series of projects using patterned paper (also known as Designer Series Paper or DSP for short). Today we're using a drape fold to show both sides of our pretty patterned paper and then topping it off with a bow.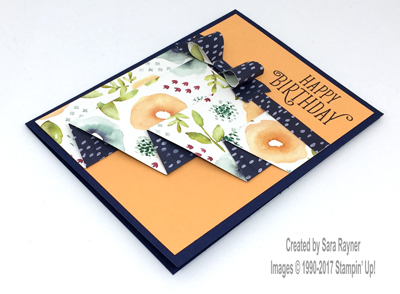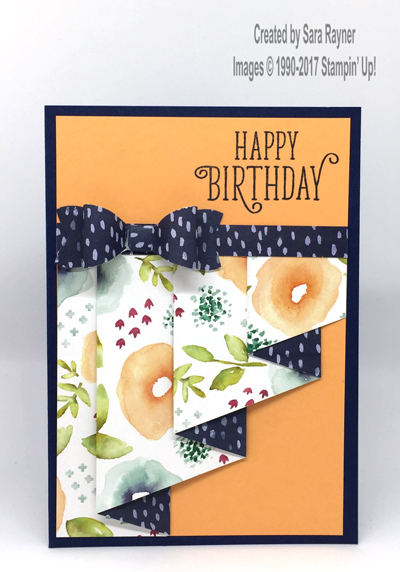 The card base is an A6 portrait of Night of Navy. A 4″ x  9-7/8″ piece of Naturally Eclectic DSP was scored along the long edge at 1-1/2″, 2-1/2″, 4-1/2″, 5-1/2″, 7-1/2″ and 8-1/2″. A pencil mark was made 1″ down the short edge of the paper and then it was cut diagonally from the pencil line to the bottom of the farthest scoreline as shown below.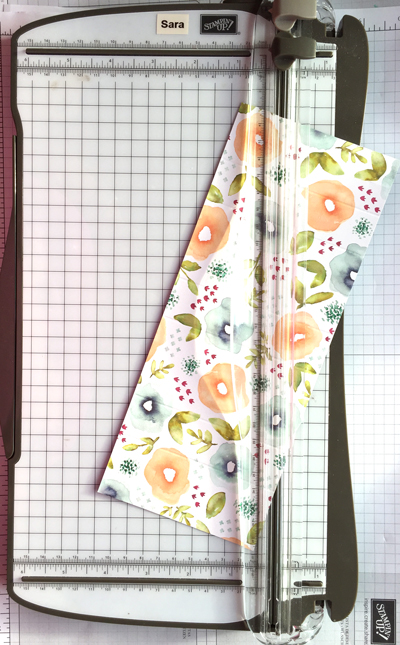 The paper was pleated and then adhered to a card front layer of Peekaboo Peach. Using Night of Navy ink, a sentiment from Happy Birthday Gorgeous was stamped above the paper. A narrow strip of the reverse pattern of DSP was added the top of the folded paper, before adhering the layer direct to the card front. The Bow Builder was used to punch pieces from the same reverse pattern of paper and once assembled, it was adhered direct to the front of the card.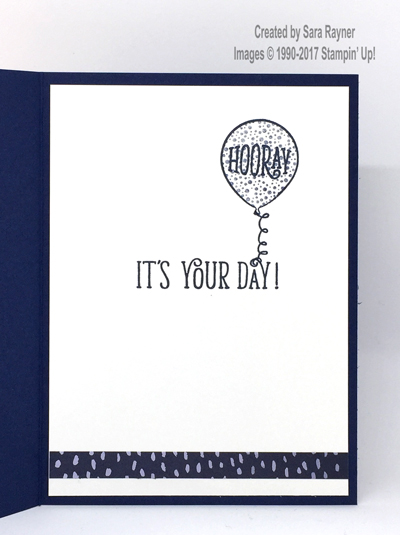 On the Whisper White insert another sentiment from Happy Birthday Gorgeous was stamped in Night of Navy ink. A sentiment balloon and string were stamped at full strength and then the spotty balloon was stamped over the top after first stamping off for a paler shade. A strip of the reverse side of DSP was adhered below.
Enjoy the rest of your weekend.
Thanks for stopping by.
Sara xx
These are the supplies used on this project. If you live in the UK, Austria, France, Germany, or the Netherlands, then click on any product to shop online.