I had an absolutely fabulous time at our regional training yesterday. As well as receiving some gorgeous swaps from other demos (thanks ladies), we got to see some of the new products (they're lush) and we all got a free stamp set from the new catty (I'll have a few samples to share as a sneak peek later this month).
In the meantime here's another stamp set that I'm going to miss 

The On a Pedestal set was one of my stand-bys for birthdays. It's great for quick cards and easy to bling up a little to make it look appropriately special.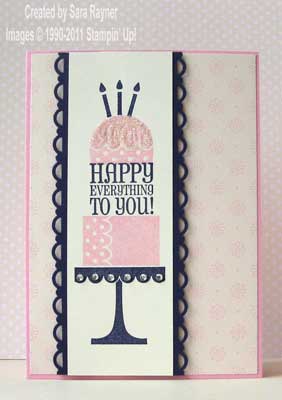 Recipe
Stamp set: On a Pedestal (W113814)
Cardstock: Pretty in Pink (106568), Concord Crush (121691), Very Vanilla (106550)
Ink: Pretty in Pink (101301), Concord Crush (119785)
DSP: Lap of Luxury (120436)
Punches: Scallop Trim Border (118402)
Other: Dazzling Diamonds (102023), Basic Rhinestones (119246)
Tools: Stamp-a-ma-jig (101049)
The birthday cake tower was stamped using the stamp-a-ma-jig to keep all the elements aligned. A little "frosting" was added to the cake and rhinestones around the edge of the pedestal. This strip was edged with Scallop Trim Borders punched from Concord Crush card. the base card of Pretty in Pink was matted with DSP and the stamped strip was popped up on dimensionals.
And on the inside: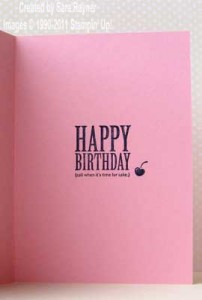 Recipe
Stamp set: Afterthoughts – Hostess Level 1 (W118388 or C120121), On a Pedestal (W113814)
Ink: Concord Crush (119785)
All simply stamped.
The On a Pedestal set has 25% off. If you'd like to order this or any other items from the Last Chance List then please email me (please note that the List has been updated as a few items were missing from it).
Please stop by again tomorrow and I'll share pix of the swap cards from yesterday's training.
Sara xx