I'm a little disappointed today 🙁
I was hoping my first big order from the new catty would have arrived but despite the SU warehouse working so hard to get the large volumes of orders out to us, it's going to be Monday before it can be delivered and then I'll be working away so won't be able to play!
Ah well, at least I've still got my preorder goodies to play with and some of the Candy Cane fabric that I trialled for the regional workshop. I was lucky enough to be asked to try this out and share my ideas with fellow demos and this is the card that I demonstrated at our get together in Leeds last month. It's another one that needs no sewing.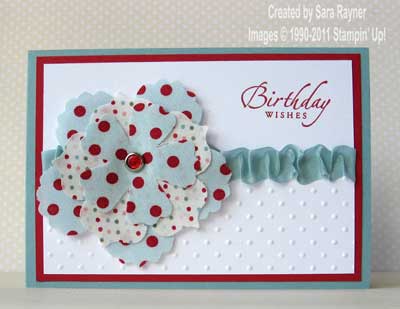 Recipe
Stamp sets: Sincere Salutations (105156)
Cardstock: Real Red (106578), Baja Breeze (116207), Whisper White (106549)
Ink: Real Red (103133)
Designer Fabric: Candy Cane Christmas (121715)
Seam Binding Ribbon: Baja Breeze (122331)
Bigz L Die: Fun Flowers (121812)
Embossing Folder: Perfect Polka Dots (117335)
Other: Circle Fire Rhinestone Brads (109110)
Tools: Big Shot (113439)
A mat of Whisper White card was enclosed halfway into the Perfect Polka Dots embossing folder and run through the Big Shot to just emboss the bottom half of the mat. The sentiment was stamped in Real Red ink above the dots. Sticky Strip was put across the centre of the textured mat and then Baja Breeze ribbon stuck down on top of it, twisting and turning the ribbon, to create the ruffles. The Fun Flowers were die cut from the two spotty fabrics (there's also a third, striped one in the pack) using the Big Shot, layered up and secured through the ribboned mat with a Red Rhinestone Brad. These layers were then adhered direct to a mat of Real Red and then to the Baja Breeze card base.
Tomorrow I'll show you one of the items that I'm so keen to get my hands on.
Enjoy your weekend.
Sara xx