I'm back today with another card made with some of the pre-order goodies. Now one of the things that Stampin' Up! excels at, is having matching products – and some of these they put together into product suites. This year we have the Timeless Portrait suite, which links the Forever Young and Parlor Prints stamp sets with Timeless Portrait DSP and fabric (amongst other things). When I saw how one of the papers carried the same motif as the background stamp, I decided to make a feature of it.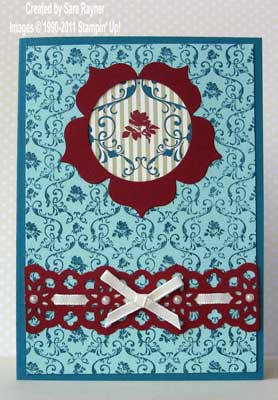 Recipe
Stamp sets: Parlor Prints (W122525)
Cardstock: Island Indigo (124390), Pool Party (124391), Cherry Cobbler (121681)
Ink: Island Indigo (122937)
DSP: Timeless Portrait (122352)
Punches: Lace Ribbon Border (122362), 1-3/4″ Circle (119850)
1/8″ Taffeta Ribbon: Very Vanilla (119960)
Bigz L Die: Fun Flowers (121812)
Other: Basic Pearls (119247)
Tools: Big Shot (113439)
 The Parlor Prints background stamp was inked with Island Indigo and stamped onto Pool Party card. This was trimmed to fit a standard A6 card of Island Indigo and the offcut was retained for the insert. The 1-3/4″ Circle punch was inserted centrally as far down the Parlor Prints stamped image as it would go and an aperture punched out. Timeless Portrait DSP was adhered behind the aperture, ensuring that the rose motif was in the centre. A medium Fun Flower was die cut from Cherry Cobbler card, the centre punched out again with the 1-3/4″ Circle and adhered direct to frame the image. The Ribbon Lace Border was punched from Cherry Cobbler card and threaded with Very Vanilla Ribbon before adhering direct to the Parlor Prints mat, adhering the ribbon on the reverse. The mat was then adhered direct to the card front. Basic Pearls and a dinky bow of matching ribbon finished the card.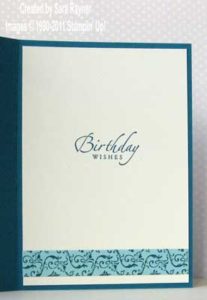 Recipe
Stamp sets: Sincere Salutations (105156), Parlor Prints (W122525)
Cardstock: Very Vanilla (106550), Pool Party (124391)
Ink: Island Indigo (122937)
For the inside, a Very Vanilla insert was stamped with the sentiment in Island Indigo and the offcut from the background stamp was adhered close to the bottom of the insert.
I just love this background stamp and can see it becoming a firm favourite.
Sara xx