This was one of the general swap cards that I made and once you've made up a batch of home made Shimmer Spray, it's really quite quick to do, but has a classy elegant look.
To make the Shimmer Spray I filled a small spray bottle (mine was 50ml I think) about halfway with rubbing alcohol, added around 10 drops of Shimmer Paint (adjust up or down for more or less shimmer) and a couple of drops of boiled and cooled water out of the kettle (it's a pretty close approximation of distilled water and seems to help prevent clumping). Shake to mix before spraying and use in a well ventilated room, especially if making a batch.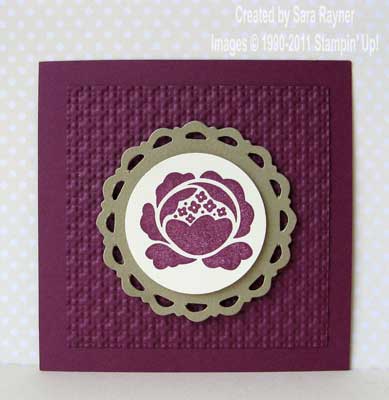 Recipe
Stamp set: Array of Sunshine (W122485 or C122487) (Hostess set)
Cardstock: Rich Razzleberry (119981), Brushed Gold (124917), Very Vanilla (106550)
Ink: Rich Razzleberry (115658), Champagne Mist Shimmer Paint (116806)
Punches: 1-3/4″ Circle (119850)
Embossing Folder: Square Lattice (119976)
Bigz L Die: Perfect Pennants (123126)
Non-SU: Rubbing Alcohol, Small Spray Bottle
Tools: Big Shot (113439)
The card base is a 4″ square of Rich Razzleberry. A smaller square (3-3/8″) of the same colour card was spritzed all over with the Shimmer Spray and left to dry (it doesn't take long). (Don't worry if the card curls, the embossing takes care of that). A scallop trim medallion was die cut from Brushed Gold with the Perfect Pennants. After stamping the flower bud from the Array of Sunshine set in Rich Razzleberry ink onto Very Vanilla card it was punched out with the 1-3/4″ Circle and popped up on dimensionals onto the Gold medallion. Once the spritzed card was dry (easily done by the time the die cutting, stamping and punching was complete) it was put through the Big Shot with the Square Lattice Embossing Folder. (For the batch I embossed them layered up, two at a time for speed). The embossed layer was adhered direct to the card front and the medallion popped up on dimensionals in the centre.
It's a bit difficult to pick the shimmer up well in the photos but hopefully you can see it in this close up;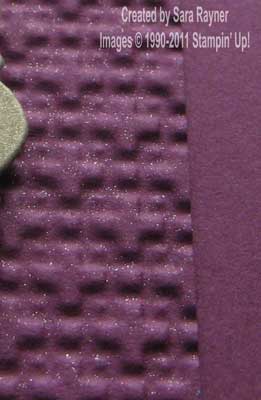 For a batch of Christmas cards simply swap out the central image with something more festive.
Sara xx