Yay! At last I can share our new Mini Catalogue with you online. Just click on the image below (or the button over on the right of the page) to have a browse.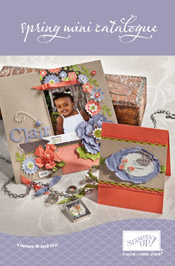 And welcome to our Mini Catalogue blog hop. A bunch of us from over at the In Love With Stamping forum have joined together to put on a great hop full of inspiration for you today. A big thanks to Alison for organising this.
If you've joined me from Charlie's blog, then thank you for stopping by (weren't her cake picks sweet). If you're starting here then you'll be able to work your way around this hop of around 19 blogs (you're not busy today are you?

)  until you get back here.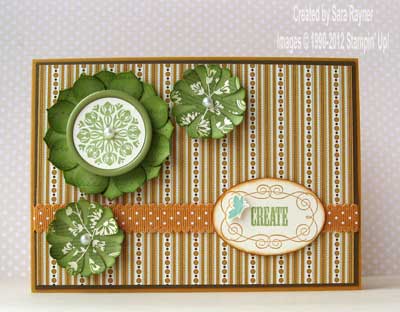 Recipe
Stamp sets: Charming (W116519 or 125829)
Cardstock: More Mustard (106569),Soft Suede (119982), Pear Pizzazz (121693), Very Vanilla (106550)
Ink: More Mustard (103162),Soft Suede (115657), Pear Pizzazz (119784), Pool Party (122938)
DSP: Spice Cake (124003)
Scallop Dots Ribbon: More Mustard (124140)
Punches: Extra-Large Oval (119859), 1-1/4″ Circle (119861)
Originals Die: Blossom Party (115971)
Other: Spice Cake Designer Buttons (124113), Basic Pearls (119247)
Tools: Big Shot (113439), Sponge Daubers (102892), Stamp-a-ma-jig (101049)
The card base is an A6 landscape of More Mustard. A mat of Spice Cake DSP was adhered direct to a slightly larger mat of Soft Suede and was wrapped with More Mustard Scallop Dots Ribbon before adhering direct to the card front. Two of the large chunky flowers were die cut from Pear Pizzazz card using the Blossom Party  die in the Big Shot. Two medium round flowers were also die cut from Pear Pizzazz card and a further two from Spice Cake DSP. The chunky flowers were stamped with the script in Pear Pizzazz ink and then the edges of all the flowers were sponged lightly with the same ink. Offsetting the petals, the largest flowers were adhered direct to each other and direct to the card front. The circular motif was stamped in Pear Pizzazz ink onto Very Vanilla card and punched out with the 1-1/4″ Circle.  This was added to a Pear Pizzazz Spice Cake button and to the centre of the flower using glue dots. The smaller DSP flowers were adhered to card flowers and then popped up on the card front with dimensionals. Basic Pearls were used to finish all the flowers. More Mustard ink was used to stamp the scroll frame onto Very Vanilla card and the Create sentiment stamped in the centre with Pear Pizzazz ink. This was punched out with the Extra-Large Oval, sponged around the edges with More Mustard and Soft Suede inks and then popped up on dimensionals. Finally the small butterfly was stamped in Pool Party ink onto Very Vanilla card, cut out and popped up on a sliver of dimensional on the sentiment.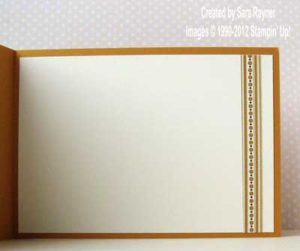 Recipe
Cardstock: Very Vanilla (106550)
DSP: Spice Cake (124003)
The Very Vanilla insert was simply decorated with a strip of Spice Cake DSP.
This Mini carries our lovely new range of Simply Adorned Jewellery – perfect for carrying photos of loved ones or for your own mini works of art. Just change out your insert to match your outfit or your mood.
Here's my latest insert: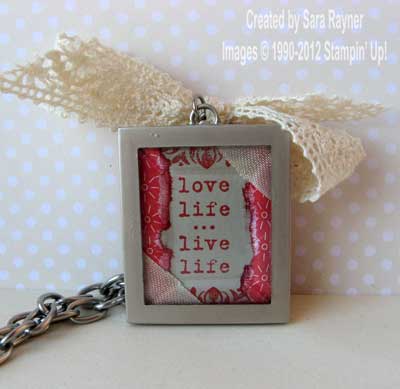 Recipe
Stamp sets: Charming (W116519 or 125829), You're a Gem (W122268 or C122270)
Cardstock: Sahara Sand (121695)
Ink: Poppy Parade (119782), Cherry Cobbler (119669)
DSP: Pocketful of Posies (122354)
Seam Binding Ribbon: Very Vanilla (120999)
Crochet Trim: Victoria (118481)
Other: Simply Adorned Chain (116800), Simply Adorned 2.5 x 3.2 cm Charm (116798),
Tools: Stamp-a-ma-jig (101049), Sponge Daubers (102892)
The insert that comes with the Charm was used as a template to trace and cut the base Sahara Sand card. Poppy Parade ink was used to stamp the sentiment from the You're a Gem set and the edge of the circular motif from the Charming set. Strips of Pocketful of Posies DSP were torn and sponged with Cherry Cobbler ink. These were adhered either side of the sentiment and all the edges of the insert were sponged with more Cherry Cobbler ink. Very Vanilla Seam Binding Ribbon was wrapped around opposite corners. The necklace was finished with a bow of Crochet Trim around the top of the charm.
Well thank you for stopping by and now I'll pass you on to the next stop in the hop, which is Leanne's blog, where she has another beautiful project to show you.
Just in case of any possible gremlins in the works, here's the full list of people on the hop after me, so that if any of the links don't work for any reason, you can short cut to the next person:
Thanks for stopping by and if you'd like to order supplies to make any of the projects please
email me
.
Sara xx