Wow! Well yesterday was my last day in the day job so I guess that means that today is the first day of the rest of my life!
I've taken a voluntary severance package and after 26 years with the same employer it's going to be a heck of a change, but whilst I'll miss the fantastic group of people that I've worked with, I certainly won't miss the job. And instead I'll be able to spend more time doing what I love and building my Stampin' Up! business.
I'm going use the next couple of weeks to catch up with all the jobs that I'm behind on (including the online instructions for the Aviary Class – sorry ladies, they're next on the list after tonight's workshop, I promise) and then I'll be looking at a complete overhaul of my business. I've got lots of improvements planned for all areas; blog, classes, workshops and more so watch this space 

But for now we'll just stick with a regular feature – a card design.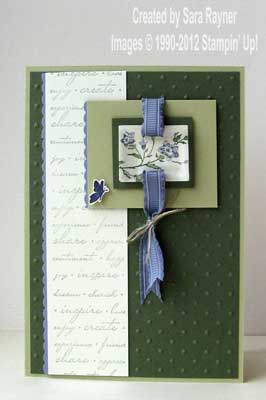 Recipe
Stamp sets: Charming (W116519 or C125829)
Cardstock: Always Artichoke (108610), River Rock (111852), Wisteria Wonder (124389), Very Vanilla (106550)
Ink: Always Artichoke (105219), Concord Crush (119785)
Markers: Always Artichoke, Wisteria Wonder, Concord Crush
Punches:  Dotted Scallop Ribbon Border (119275)
Ruffled Ribbon: Wisteria Wonder (122973)
Embossing Folder: Perfect Polka Dots (117335)
Other: Beveled Windowpanes (121881), Linen Thread (104199)
Tools: Big Shot (113439), Stamp-a-ma-jig (101049)
The card base is an A6 portriat of River Rock matted with Always Artichoke card that was first textured by running through the Big Shot with the Perfect Polka Dots folder. A panel of Very Vanilla card was stamped with the script in Always Artichoke ink, stamped off first for a paler shade. The Stamp-a-ma-jig was used to repeat the pattern of the script on the top and bottom of the panel. A Dotted Scallop Ribbon Border was punched from Wisteria Wonder card and adhered behind the script panel before adhering it direct to the card front. A small rectangle of Very Vanilla card was cut to the same size as the Beveled Windowpane. Using markers direct to stamp, the flower was coloured and stamped onto the template. Wisteria Wonder Ruffled Ribbon was used to sandwich the template and windowpane together before adhering them to a small mat of Always Artichoke card. This was popped up on dimensionals on a larger mat of River Rock card that had also been edged with Wisteria Wonder Dotted Scallop Ribbon Border. After looping the Ruffled Ribbon  over the top of the mat the ends were tied together with a bow of Linen Thread and the tails trimmed before popping the whole panel up on dimensionals on the front of the card. It was finished with a small butterfly stamped in Concord Crush ink onto Very Vanilla card, cut out and popped up on a sliver of dimensional.
Have a great weekend.
Sara xx