This little get well card uses a variety of items from the Twitterpated suite of products as well as the Bright Blossoms stamp set (W125495 or C125497). The Summer Mini Catalogue will finish in just over two weeks time, so if you want to be certain of getting any of these products, then now is the time to do so. Not everything will make it through to the new catalogue. Just email me if you'd like to place an order.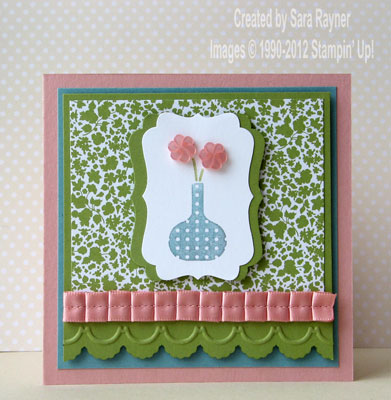 Blushing Bride, Baja Breeze and Pear Pizzazz were lifted from the full Twitterpated colour palette to form the colour combo for this card. The Adorning Accents die (125595) and matching embossing folder (125601) were used on the edge of the Pear Pizzazz layer to give the pretty scalloped effect. Twitterpated DSP (125406) was adhered to the same layer and then Blushing Bride Pleated Satin Ribbon (125570) was run adhered across the bottom of the paper. Markers were used to colour the vase and stems direct to stamp and the image was then punched out with the Decorative Label (120907). Another Decorative Label was punched from Pear Pizzazz card, cut in half and matted behind before popping the image up on dimensionals. Twitterpated Designer Buttons (125579) were adhered to the top of the stems with Mini Glue Dots.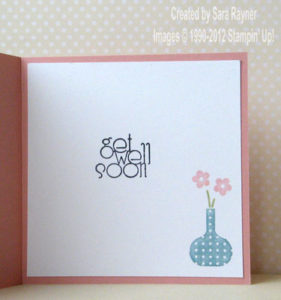 For the inside, the vase was stamped again and this time Itty Bitty Bits (W117056 or C120060) flowers were stamped at the top of the stems with Blushing Bride ink. The sentiment is from the Delightful Dozen stamp set (W122650 or C122652).
Thanks for stopping by.
Sara xx