Yesterday was my Mum's birthday, which was the main reason that I didn't get around to blogging 

 it was a busy day 

It's become a tradition that I take my Mum out for the day on her birthday and this year was no exception. We started the day at my friend Jan's Pampered Chef party, where we were waited on and treated to some easy to duplicate recipes. Yum!
Then it was on to the spa for the rest of the day, including treatments; a massage for me and a facial for Mum. Sooo relaxing. Then we finished off with soft drinks in the Champagne Bar. Mum doesn't really drink and I was driving but it still felt very decadent, lol.
Of course there were also presents and most importantly for sharing here … a card. My current favourite is the shaker card and I stepped it up a little to make it extra special for Mum by adding some ribbon roses.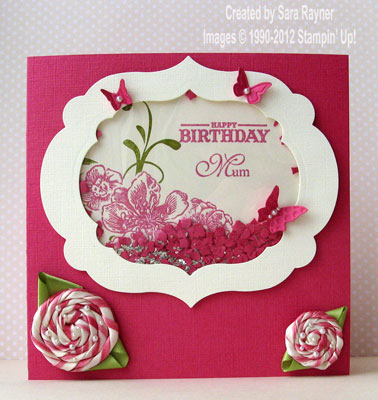 The card was made in a similar fashion to the one we made at last weekend's Summer Stamptacular. To help manage the depth of the card, I also made a matching envelope box to present it in (also based on the one we made at the Stamptacular).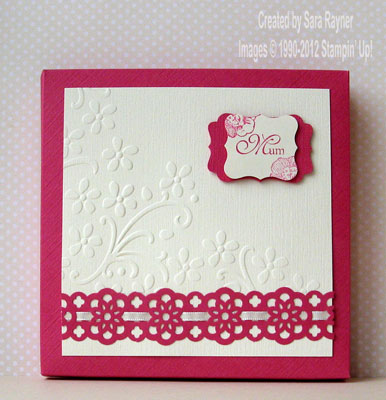 Couldn't get to the Stamptacular and feel a little left out? Well I'll have some news on that front, towards the end of next week, so please stop by again then, if not before 

Sara xx