Oops! Some of you might have seen this ahead of time 

I was trying to get organised yesterday because I'm travelling for work today and might not be back until late. In trying to schedule the blogpost for today I made a mistake and accidentally published it. Worse still, I didn't even realise until a few hours later. So if you're having a feeling of deja vu then don't worry – you might actually have seen this before 

. For those who didn't …
This little Googly Ghouls (W128060 or C128063) mummy is just so cute that I decided to make a woven "bandage" background for him to rest on.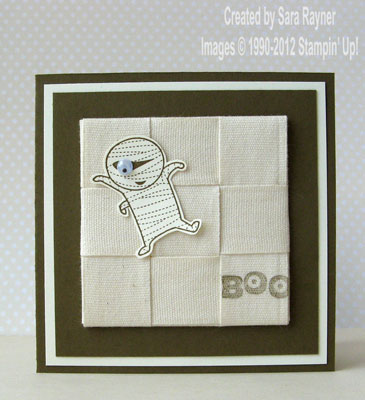 The Natural Cotton Ribbon (127844) was woven over a square of card then matted and layered onto Soft Suede and Very Vanilla. After stamping the mummy in Soft Suede ink onto Very Vanilla card, he was cut out and adhered to the bandages with glue dots. A single Googly (127539) was added over his eye. Just the first part of the sentiment from the same stamp set was inked direct to stamp with a Soft Suede marker and stamped direct onto the ribbon in the lower right corner. (I keep holding this clear mount stamp the wrong way round so if you're like me then I recommend test stamping it first before using it on the real deal

).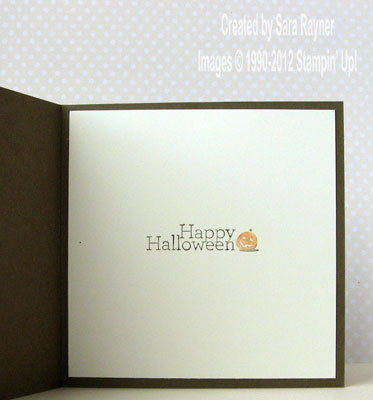 For the inside, I used markers direct to stamp again to ink and stamp the sentiment from the Delightful Dozen (W122650 or C122652).
Back again tomorrow to give this card a Christmas makeover.
Sara xx