It's a new annual catalogue and that means a new set of hostess stamps to choose from! Now if you're a hostess and qualify for the hostess credits, then you can spend them on anything in the current main or Autumn/Winter catalogues, but the hostess sets are specially priced to be extra value and are only available to hostesses.
One of the new hostess sets is Four Seasons and it does what it says on the tin – it's a set of stamps with a main and a mini image for each season. My hostesses and I used the Winter image to make this shaker card at a recent hostess appreciation event (and it's now top of their wish list for spending their next workshop credits!).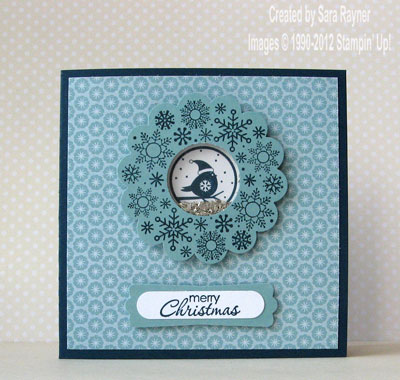 The card base is a small square of Midnight Muse matted with Floral District DSP (126919). This paper is bold and bright on one side but this subtle star design in Baja Breeze on the other – perfect as a background for this card. The main Winter image was stamped onto both Whisper White and Baja Breeze card using Midnight Muse ink. The Baja Breeze version was first punched out with the 2/3″ Scallop Circle (118874) and then the centre punched from it with the 1″ Circle (119868). Window Sheet (114323) was adhered behind the aperture. The Whisper White version was punched out with the 1-3/4″ Circle (119850) and a Shaker Frame (124155) adhered over the centre of the image before sprinkling Silver Glass Glitter (120995) into it and adhering the window image over the top. The shaker topper was adhered direct to the front of the card. Petite Pairs (W122495 or C122497) was used to stamp the sentiment in Midnight Muse ink onto Whisper White card before punching out with the Word Window punch (119857) and matting onto a Modern Label (119849) punched from Baja Breeze card. This sentiment was popped up on dimensionals below the shaker.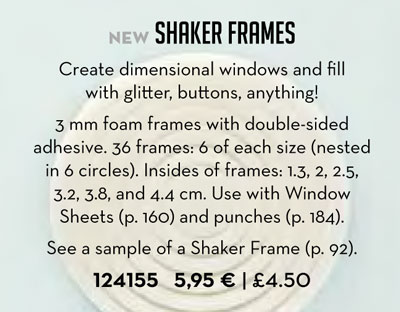 Shaker cards are one of my favourite designs (as those who came to our Summer Stamptacular will know) and I can't believe how easy these shaker frames have now made them. Fantastic!
They're easy to overlook but you'll find them on page 177 of the Annual Catalogue, with all the other adhesives.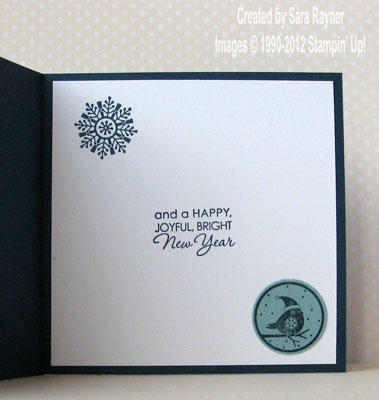 On the Whisper White insert we stamped the other half of the sentiment pair and the mini snowflake image in Midnight Muse ink and adhered the punched out bird from the front of the card.
I can't wait to work my way through the rest of the seasons 

Sara xx