Hope you've enjoyed your extra hour today. I made good use of it by doing some more preparation for convention … and then I got together with a bunch of the Paper Dolls. What a brilliant afternoon! I've just got back in from our team training and I'm buzzing, heehee! As usual, I've got some fantastic swaps. I guess that it may be mid-week before I get to photograph them in the light but for now I'll share the swaps that I made to give to everyone else.
I made everyone a Petite Purse but I made them extra special by covering them in fabric so they seem even more like a real handbag 

Most of them were Orchard Harvest fabric (126915):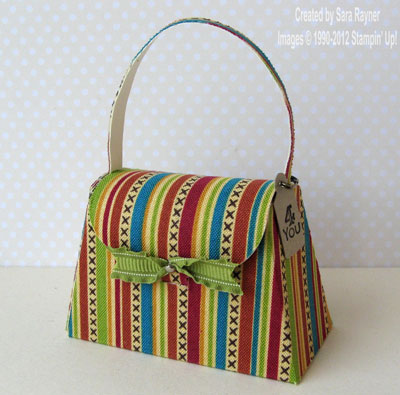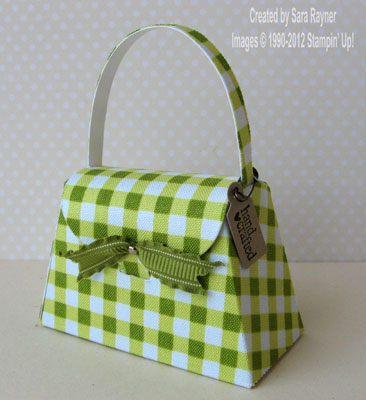 and a couple were Twitterpated fabric (125412):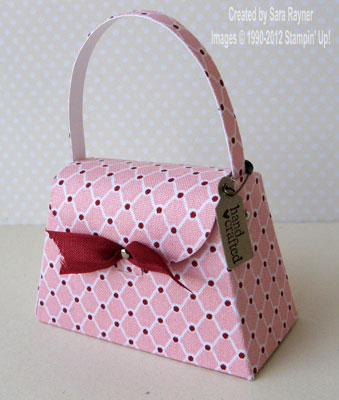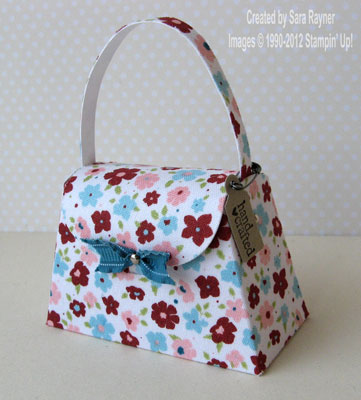 To make them, Whisper White or Very Vanilla card cut to the size of the Petite Purse die (125606) was covered with Multipurpose Adhesive Sheet (120805) and then with the fabric. (I didn't use Fabric Adhesive Roll because a) I don't iron and b) I'm not going to wash the bags 

). Each material/card combo was run through the Big Shot with the die and then assembled. Mini Brads (122941) were using to fix the handles on and with ribbon to trim the front of the bag and I used Multipurpose Liquid Glue to adhere the sides of the bag. After stamping the Handcrafted sentiment from Tiny Tags (W118091 or C118592) onto Crumb Cake card with Early Espresso ink, it was punched out with the Jewelry Tag (117190), stamped again with the 4 You sentiment and then fastened to the purse with a safety pin from Vintage Trinkets (118764).
Here's the full batch that I made for the team plus a couple of guests that we had attend today.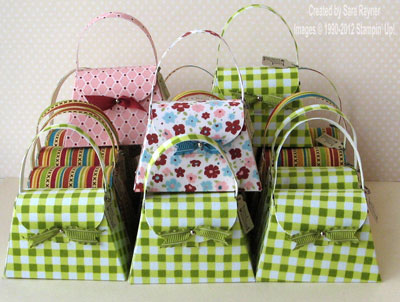 Each was filled with about 7 Hershey's Kisses. Well, crafting and chocolate go so well together don't they?
We've set the date and time for our next team training, so if you'd like to join us, then pencil it in your diary. We'll be getting together 1pm-3pm (warning – we always overrun!) on Sunday 9 December. Our meetings are open free of charge to any guests who may be thinking of joining our team or purchasing the SU! Starter Kit. There's no pressure to sign up – we're not that kind of team – just a chance to find out more and get any questions you may have, answered. If you'd like to come along then please let me know so that we can make sure we have a make and take pack for you.
Sara xx