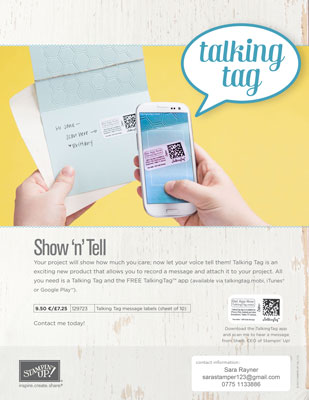 I just love gadgets and gizmos and this new one from Stampin' Up! looks great fun. It's a label that you scan, record a message and then stick the label onto something. The recipient scans the label and gets to hear the message you recorded.
Personalise birthday cards, Christmas gifts or even record quick instructions for a recipe. Now your pictures really can say a thousand words!
Here's a short video that explains it better:
How to send a voice message:
Download the FREE TalkingTag™ App on you smartphone from talkingtag.mobi, iTunes® or Google Play™.
Adhere the message tag to your card or gift.
Open TalkingTag™ App and scan the code.
Record your message (recording starts immediately, so make sure you're ready!).
You will have the opportunity to listen, re-record, cancel, or confirm your message after you've completed recording it. Each label allows up to 60 seconds of a greeting, song, or product message.
To play the message, recipients will need to download the app and scan the code. Messages are saved for two years, so they can listen to it over and over.
Helpful Tips:
Adhere Talking Tag to a flat surface, otherwise the scanner can't read the code.
Multiple tags can be attached to one surface, but don't place them too close together. When scanning a message, you shouldn't be able to see another code on the screen.
Do not write or place any decoration over the label.
Talking Tag has a permanent adhesive and cannot be repositioned once attached to a surface. Attempting to remove it could tear the label, making it impossible to listen to the content.
A Talking Tag message label can only hold one message. Once a message is confirmed, it cannot be deleted or re-recorded.
How to Buy Talking Tags:

You buy them by the sheet – 10 tags for just £7.25 (item 129723). Just email me or give me a call on 0775 1133886 to order. I've just put in my first order for these and can't wait for them to arrive so that I can give them a test drive!
Have a great weekend.
Sara xx