I told you I'd be back to this gorgeous set again soon enough didn't I? It's the Affection Collection (W127946 or C127949) stamp set (that I got FREE at convention)! My friend had spotted that the Marina Mist and Very Vanilla combo I was using before Christmas looked a little like Wedgewood so when we got together on Friday we followed the theme through to make this Valentine card.
Now I'm sure that some of you out there don't really celebrate Valentine's Day and so for the next week (or thereabouts) I figured I'd do as I did for Halloween and show a Valentine's Day project one day and then show a variation of it, redesigned for another occasion, the next day.
So please don't be put off by this card if you don't "do" Valentine's Day. It will work for other occasions too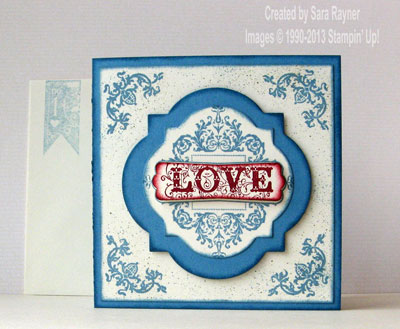 The card base is a small square of Marina Mist. A mat of Very Vanilla was stamped in each corner with the small filigree motif in Marina Mist ink and then the layer was spritzed using the Color Spritzer tool (107066) with Marina Mist and Gold Dazzle (128979) Marker pens. The large label motif was stamped onto Very Vanilla card with Marina Mist ink and die cut out with the closest Window Frame framelit (129021). The next size up framelit was used to die cut another Window Frame in Marina Mist card. All the edges of the layers so far were sponged with Marina Mist ink and the squares and the window frames adhered direct together then the windows popped up on dimensionals in the centre of the squares. After stamping the Love sentiment onto Very Vanilla card with Cherry Cobbler ink, it was punched out with Modern Label (119849), the edges sponged with more of the same ink and then popped up on more dimensionals in the centre of the card front.
The banner was inked with Marina Mist ink, stamped off and stamped onto the envelope.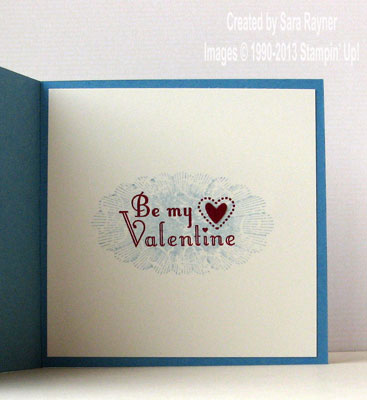 For the inside, the scallop oval motif was inked with Marina Mist ink, stamped off, then stamped onto a Very Vanilla insert. The sentiment is from the Delightful Dozen set (W122650 or C122652) and was stamped with Cherry Cobbler ink. A teeny heart was punched out of Cherry Cobbler card using the Owl Builder punch (118074) and was adhered inside the stamped heart.
I'll be back tomorrow with a variation to this card but if you like this stamp set then please don't leave it too late to order it. It won't be available after 31 January unless it resurfaces in the main catty (which won't be out until July) and maybe not even then.
Sara xx