Aren't these Sale-a-bration freebies fabulous! Today's sneak peek is the Bloomin' Marvelous set, which is a set of 8 stamps – 4 images and 4 sentiments. The only thing potentially "wrong" with it, is that the Bloomin' Marvelous sentiment is in the US spelling.
A friend of mine is boycotting the set because she doesn't want to contribute to the poor level of spelling in the UK. I can totally understand her thinking  … but I still couldn't resist it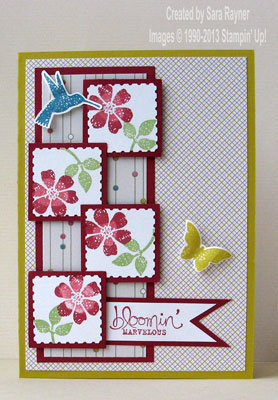 The colour combo is Primrose Petals, Raspberry Ripple, Summer Starfruit and Wild Wasabi with just a splash of Island Indigo.
Birds of a Feather DSP (126899) has been added to the mats and the 1-3/8″ Square (119877) and the Postage Stamp (122344) punches used, all available already in the main catalogue.
There's also a teeny sneak peek here as well of a new punch that's coming in the Spring catty – can you spot it?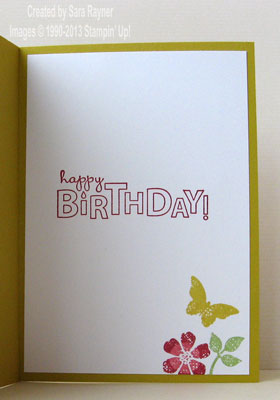 The same stamps have been used again on the insert, with the addition of a sentiment from Bring on the Cake (W121899 or C121958).
Thanks for stopping by.
Sara xx