I so loved the swaps that I got at team training recently that I've decided to CASE them, but add in some (extra) Sale-a-bration products.
Each time I CASE, I'll give a suggested bundle that would qualify you for a FREE Sale-a-bration (SAB) product and provide (most of) what you need for the project. Apologies in advance – I've cheated and used more than one SAB product sometimes, so either you'll have to substitute or create your own second bundle 

Here's Julie's tag using Henry Says (I found the sentiment that had fallen off):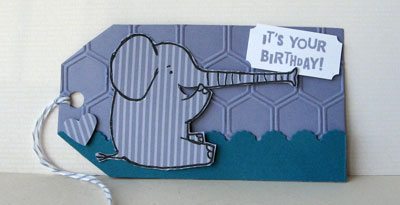 And here's my SAB version: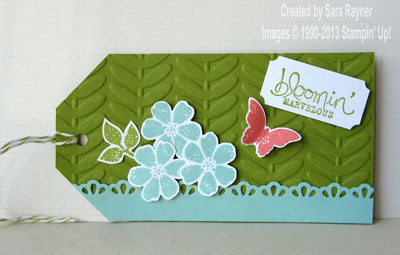 Suggested SAB Bundle
Ticket Duo Builder (126883) – £15.50
Finishing Touch Edgelits (127010) – £8.95
Bitty Butterfly punch (129406) – £14.25
Lucky Limeade Baker's Twine (125572) – £2.50
2011-2013 In Color cardstock (124331) – £6.25
Total – £47.45
Bloomin' Marvelous (W129651 or C129654) – FREE
Please email me or give me a call on 0775 1133886 if you'd like to place an order and get your own FREE SAB product(s).
Sara xx