I've been busy today making a little gift for my Mum ready for next Sunday – Mother's Day. (She's been away this weekend so I think she'll be too busy to check out my blog – hope so or it'll spoil the surprise 

).
As my Mum is now a Gran, I feel sure that she'll appreciate a little squash book. She already has plenty of photos of my little nephew George on her iPhone but it's nice to have a physical little brag book to show to friends and family. As my Dad enjoys his photography, I thought he'd be able to print the photos, so all Mum has to do is stick them in.
Here's the little book folded up and tied closed (I figured that Mum would rather put another pic of George on the front than have some of my fancy crafting

):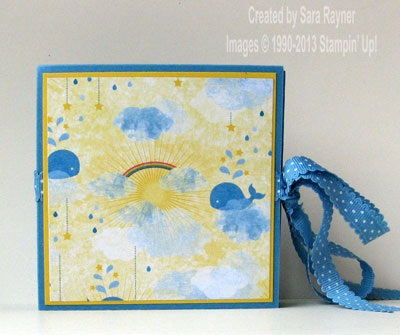 And here it is opened up. Each centre diamond is 4″ square so plenty of room for pix and the little white triangles give some room for journalling so that Mum can add some info about where and when the pix were taken.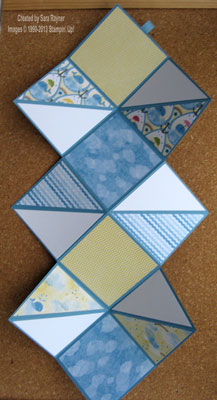 The card bases were 8″ squares of Marina Mist card, folded in half horizontally, vertically and just once diagonally. They were adhered together across the centre diamonds so that they fold shut and 3-3/4″ mats of Sunshine & Sprinkles DSP (126922) were added. Marina Mist Scallop Dots Ribbon (122986) is used to tie the squash book closed.
Clean and simple so that the focus will be on the pix 

.
Sara xx