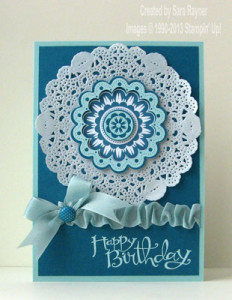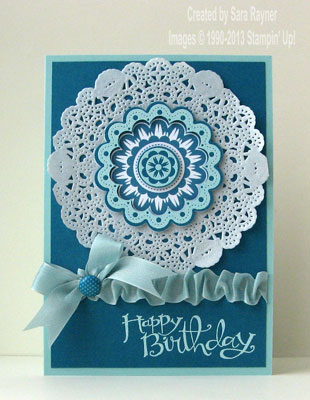 Woohoo! I'm a happy, happy bunny today. Stampin' Up! have given us a sneak peek of the upcoming colour refresh.
Not only am I not going to lose my absolutely favourite Pool Party and Island Indigo In Colors this year after all, but they're becoming core colours so they'll stay around for at least another 3-5 years!
I just love this duo.
When Stampin' Up! did a big colour renovation back in 2010, they also shared that they would have smaller colour refreshes every 3-5 years. Well it's been 3 years (nearly) and they're working hard to keep us on trend and respond to our feedback on the colours that we like and use.
From 1 July we'll be gaining four new colours (Bermuda Bay, Crushed Curry, Smoky Slate, and Soft Sky) and six returning In Colors as core colours (Blushing Bride, Calypso Coral, Island Indigo, Pear Pizzazz, Pool Party, and Wisteria Wonder).
So why am I telling you about this now? Well, because to make way for these new core colours, we'll be losing ten of the existing core colours:
Regal Rose
Pretty in Pink
Bashful Blue
Certainly Celery
Baja Breeze
Riding Hood Red
Bravo Burgundy
Not Quite Navy
More Mustard
River Rock
From today all retiring/discontinued colour products (i.e. ink, paper, ribbon, accessories, etc.) will be available only while supplies last. Now SU! have anticipated an increased demand for these products and stocked those supplies accordingly but if you're planning on using any of these colours for an important event, perhaps to create wedding invites or favours, I'd recommend ordering them sooner rather than later, to be absolutely sure.
Here's the full run-down of the colour changes coming up: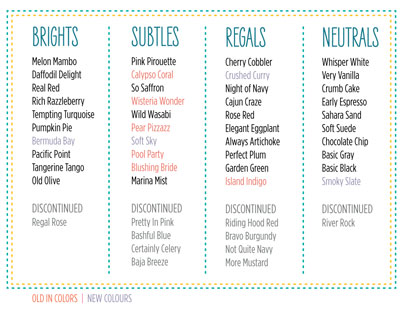 I'll miss Baja Breeze and Not Quite Navy the most (although my Pool Party/Island Indigo combo have sort of replaced them).
What will you miss the most?
Sara xx