A quick reminder first of all, that my blog candy giveaway closes at noon tomorrow – you have to be in it to win it! 

What a busy few days we've had. We had our regular monthly Template & Technique class on Thursday and Saturday and sandwiched in between was our friends' wedding on Friday.
DH and I had agreed to do the photos as a wedding present to them. Now, we're keen photographers of many years (mainly travel photography, though we have done a couple of weddings for friends in the past) but to let you into a secret, we hate doing the photography at weddings 

. It's so stressful for us! You only have the one chance to get it right. But we did get through it and we hope that they'll be happy with the results 

.
Meanwhile, here's the wedding card that I made for them.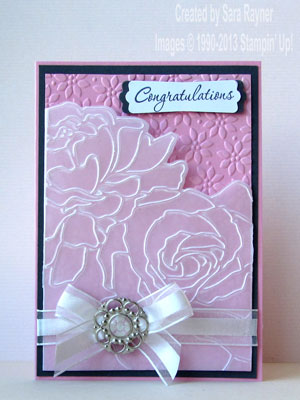 The card base is an A6 portrait of Pretty in Pink (a retiring colour). A mat of more Pretty in Pink card was embossed with the Petals-a-Plenty folder (116824). After running Vellum cardstock (106584) through the Manhattan Flower folder (114517) (also retiring) and trimming around the outside of the flowers the vellum was wrapped around the embossed mat and adhered on the back (a little Sticky Strip was also added under where the ribbon would be so that no adhesive shows through the vellum). These layers were then adhered to a mat of Basic Gray card. Organza Ribbon (114319) was wrapped around the layers (covering up the Sticky Strip that shows through the vellum) and secured on the back of the Basic Gray mat. A faux bow of the same ribbon was secured in place with a Designer Builder Brad (129329). The sentiment from Love & Laughter (W125475 or C125477) was stamped onto Whisper White card using Basic Gray ink and punched out with the Modern Label (119849). Another Modern Label punched from Basic Gray card was cut in two and matted behind it before popping the whole sentiment up on the card front with dimensionals. Finally the Designer Brad was topped with an Itty Bitty Circle (118309) punched from Tea for Two DSP (129311) and the bubble that comes with the brad.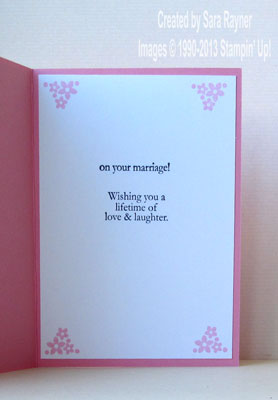 More sentiments from the same Love & Laughter set were stamped on the Whisper White insert with Basic Gray ink along with the accompanying flowers, done in Pretty in Pink ink.
We had a marvelous day despite the pressure. It was a sincere and heartfelt service that had us welling up and everything went swimmingly. We wish them both the happiest of futures together.
Sara xx