Putting my feet up now after a really busy day at the Ross Papercraft Show. Thank you to all our lovely visitors today. It was great to see so many familiar and new faces.
Apologies if you didn't get to see the Jack and the Beanstalk box demo. We got so busy that I didn't manage to do one on every hour. Please let me know if you need me to post more details on my blog for it.
Meanwhile I'm back today with the other Get Well card that I mentioned previously. This hopefully arrived in the post yesterday (or even sooner)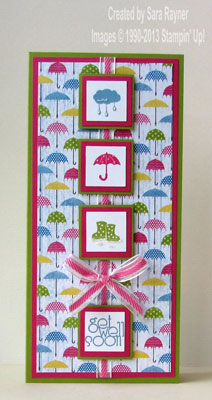 The card base is a DL card of Lucky Limeade (retiring In Color – inkpad and refill sold out!). Sunshine and Sprinkles DSP (126922) was matted onto a Melon Mambo card front layer and both were then wrapped around with Melon Mambo Striped Organdy Ribbon (129293). Images from the Spring Sampler set (W125510 or C125512) and the sentiment from Delightful Dozen (W122650 or C122652) were stamped in Marina Mist, Melon Mambo and Lucky Limeade ink onto Whisper White card and punched out with the 1″ Square (124094). These were then matted onto 1-1/4″ Squares (119865) (retiring – sold out!) punched from Melon Mambo card and 1-3/8″ Squares (119877) (retiring – sold out!) punched from Lucky Limeade card, then popped up on dimensionals over the ribbon. A bow of the same ribbon was added between the images and the sentiment. A little Dazzling Diamonds glitter (102023) was added to the images to finish.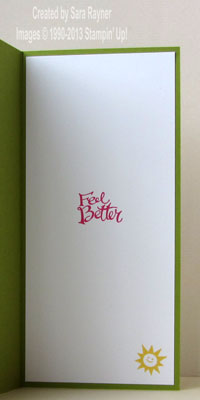 On the Whisper White insert, the sun from the Spring Sampler set was stamped in Daffodil Delight and the sentiment from Sassy Salutations (W126705 or C126707) was stamped in Melon Mambo ink. This where I added a message about being "under the weather" 

.
Although the Spring Sampler set, DSP and ribbon aren't technically retiring, they are only "temporary" products available in the Spring catty and might not make it into the main one in July. Best to get 'em while they're here.
I really missed you last Saturday ladies! Hope that you/your family get well soon.
Sara xx