A few customers have been surprised that there aren't any Christmas specific stamp sets and accessories in the new catalogue. That's because it's so packed with year round goodies … and we will also have a seasonal catalogue launching in September

.
But what if you can't wait that long to start your Christmas cardmaking (I know, I know, some of you have started already 

,  you're just so organised

)?
Well there are a couple of options:
a) you can order from the carry over list of items from our previous Autumn/Winter catalogue; and/or
b) you can use one of the great all occasion sets that are peppered throughout the catalogue. And to give you a better idea, I'm going to run a feature every Friday until the seasonal catalogue launches, sharing inspiration from different sets.
First up today, I've used the Happy Hour set. There are a couple of cute mini stamps that have Christmas motifs (candy cane and holly) and there's also a Christmas sentiment all in the same set of stamps.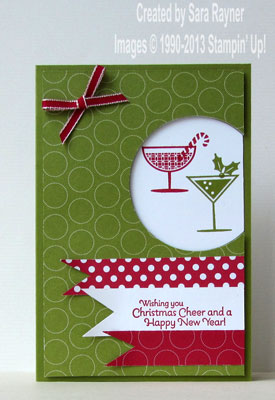 The colour combo is Old Olive, Real Red and Whisper White. Polka Dot Parade DSP (126902) provided the background and the banners. The 2-1/2: Circle punch (120906) provided the cut away aperture and some Real Red Taffeta Ribbon (119251) was used for the bow at the top.
And here's a stepped up version of the same card: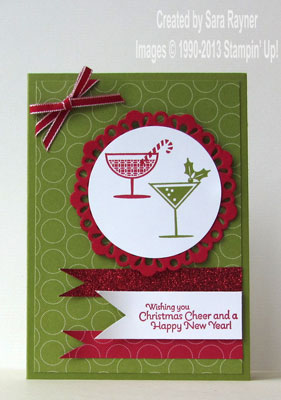 A touch of Red Glimmer paper (121790) adds some sparkle and the Delicate Doilies Sizzlit (126999) adds a little more framing to the glasses.
Of course the bonus to this set is that it's not just for Christmas! It's also great for birthdays and I'll be sharing a birthday card made with the same set, sometime next week, so please keep dropping by.
Have a great weekend.
Sara xx