Woohoo! My Digital Studio is now available to purchase.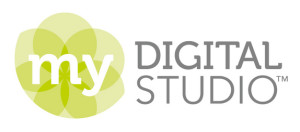 What is My Digital Studio?
It's intuitive, digital design software that features Stampin' Up!'s exclusive artwork, colours, and templates. Now you can be your own digital designer and create an array of photobooks, cards, calendars, slideshows, and more—which you can then print print out at home, e-mail, or upload to the Internet.
Here's a very short video to give you an idea (please note that the Print Services mentioned aren't available in the UK at this time):
There are plenty more free training videos like this to help you get started.
You can purchase the MDS software for just £13.95, or you can try before you buy with a 30 day FREE Trial!
Either way you can download your preferred option direct from my store here!
There is a huge amount of digital content included with MDS, so don't be surprised or worried if it takes some time to download.
Once you have MDS, there's a whole bunch of stuff you can do with the basic package. New artwork is released each week, so you can also build your digital library as you go and as you need it for particular occasions (downloads start from around £0.65 or even FREE !).
Sara xx