I really enjoy buying/subscribing to online classes for a little additional inspiration but I know full well that I probably won't get chance to play along when the class is live. Usually I catch up with them when I'm on my hols!
This week is a bit of an exception. I'm currently following along with UStamp with Dawn and Friends – Wrapping up the Holidays. Although I'm extra busy at the moment with my own stamp classes, Christmas planning, meeting up with family and friends etc, I'm finding that I need to make time for crafting to just depressurise and draw a breath 

And so I made this version of Heather Dean's ornament card. The ornament detaches from the card to be hung on the tree.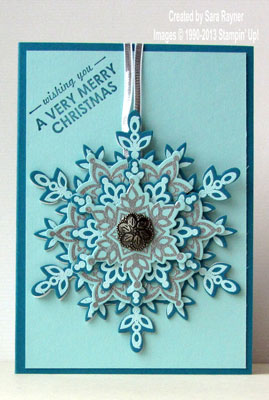 The colour combo is Island Indigo, Pool Party and Silver. Wishing You (Wood 131748 or Clear 131751) was used to provide the sentiments and the Festive Flurry Bundle (Wood 133284 or Clear 133285) was used for the ornament. I added an extra layer to the front of my card to hide the brad that I used to secure the hanging loop.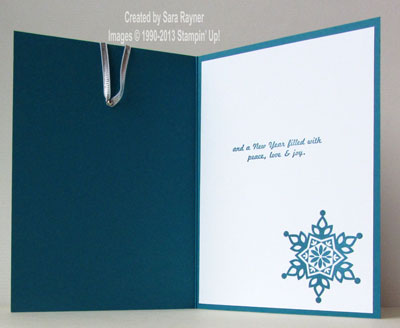 Now back to some more card writing and pressie wrapping 

Sara xx