As I mentioned on Tuesday, a couple of colleagues at work have recently moved jobs and so I'm making Congratulations cards to help them celebrate. The previous card was a feminine one and this one needed to be masculine.
Rather than start over with a different design completely (a bit busy for that at the moment), I switched the colours and papers and made a clock for the centre focus rather than the flower.
If you caught Tuesday's post then you'll know that the Antique Brad I used threw the weight off centre and caused the card to roll. To avoid that this time I put my focal point in the centre … and then realised that there is no real physical weight to this version but it's made the bottom of the card too "heavy" visually – I can't win!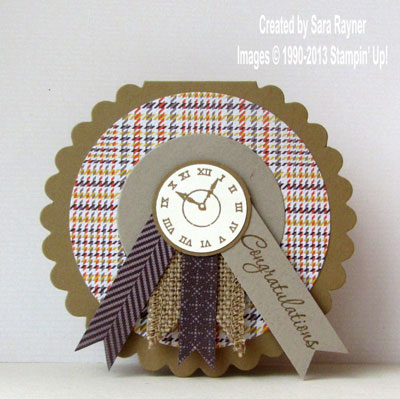 The papers this time are from Sweater Weather (132184) and the clock face is from Clockworks (Wood 131973 and Clear 127292).
Thanks for stopping by.
Sara xx