It's that time of year isn't it? When friends and family are falling foul of illness and ailments.
So it's good to have a few get well cards on hand to send out and brighten their day. This one was kept nice and flat for cheaper posting.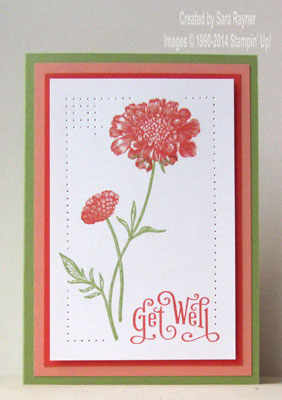 The card base is an A6 portrait of Pear Pizzazz, matted with layers of Crisp Cantaloupe and Calypso Coral card. Pear Pizzazz ink was used to stamp the stem and leaves from Field Flowers (Wood 128583 or Clear 122762) onto Whisper White card. The flower heads were stamped with  Crisp Cantaloupe (for the solid design) and Calypso Coral (for the outline design) using a Stamp-a-ma-jig (101049) for placement. Calypso Coral ink was also used to stamp the sentiment from Perfectly Penned (Wood 128703 or Clear 122892) in the bottom right corner. A frame was paper pierced around the stamping using a Paper-Piercing Tool (126189), Pierce Mat (126199) and Essentials Pack (126187). The layer was then popped up on the card front with dimensionals.
Thanks for stopping by.
Sara xx