Welcome to day 1 of our countdown to Sale-a-bration (which starts on 28 January). In case you're new to it, Sale-a-bration is our annual Stampin' Up! party, with loads of free products. This year we'll have THIRTEEN! different products to choose from and you'll be able to get one free for every £45 you spend (with no limits to how many you can collect – spend £90, get 2 freebies etc). I'm showcasing a different SAB freebie every day in my countdown.
This first one is easy peasy – to break you in gently 

The Good as Gold card kit comes with virtually everything you need to make 8 cards, complete with envelopes and a choice of two sentiments. All you need extra, is adhesive.
This is a great way to introduce your non-crafting friends to the bug and get them hooked

 You can show them all just how easy and quick it is to create a card, even if they've never crafted before.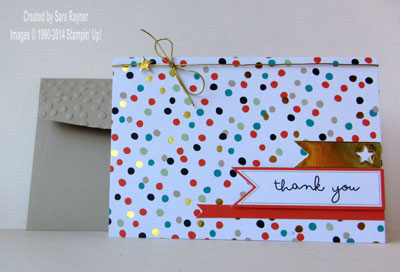 The banners are all ready die-cut and simply press out of the card sheet. Nothing needs to go to waste, I added the pressed out star over the top of the gold thread. I have stepped this one up by using another of the SAB freebies on the envelope (more of that another day). There'll be other stepped up versions for you in the weeks to come, as I hope to show the seasoned crafters of you out there, just how handy this kit is to have in your craft box.
Back tomorrow with a different freebie!
Sara xx