On to day 4 of our countdown to Sale-a-bration (starting 28 January). Sale-a-bration is our annual Stampin' Up! party, with loads of free products. This year we'll have THIRTEEN! different products to choose from and you'll be able to get one free for every £45 you spend (with no limits to how many you can collect – spend £90, get 2 freebies etc). I'm showcasing a different SAB freebie every day in my countdown.
Today it's the Banner Punch, which is made to the same standards as our regular punches (meaning that it will punch through a layer of card as well as through paper). It's a dinky punch (the banners are around 5/8″ x 3/4″), perfect for using up your scraps of paper.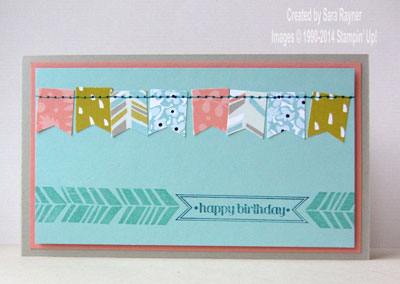 The card base is a small landscape (A6 trimmed to 3-1/2″ on the short side) of Sahara Sand matted with Crisp Cantaloupe card. Banners were punched from Sweet Sorbet DSP (another SAB freebie featured yesterday) and then adhered higgledy piggledy (saves having to get a perfect straight line!). The Essentials Paper Piercing Pack (126187), Paper piercing Tool (126189) and Stampin' Pierce Mat (126199) were used to pierce a straight row of holes and then faux stitching added with the Island Indigo Marker. The sentiment from Itty Bitty Banners (Wood 132022 or Clear 126257) was stamped in Island Indigo ink and arrows from Petal Parade (another SAB freebie to be featured soon) stamped in Pool Party on either side.
I'll be back tomorrow with another sneak peek and another guest designer – using a freebie that co-ordinates with today's Banner Punch.
Sara xx