Our Sale-a-bration is still continuing and will carry on right through to 31 March!
I've had a few questions about how to order the Sale-a-bration items online though and so I thought I'd explain it with the help of a few screenshots, to hopefully make it clearer 

You get to choose one FREE Sale-a-bration item for each £45 you spend, ie. spend £90 and choose two freebies etc. There are some bundles that Stampin' Up! have preselected to make it easy to qualify for a freebie, but you can create your own shopping list from current catalogues too. To see the preselected bundles (pages 4-9) and the Sale-a-bration goodies (pages 12-17), go to the Sale-a-bration page of the online store and click on the coral banner to view the full brochure.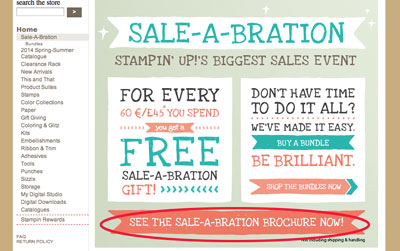 To include your Sale-a-bration goodies in your order, make your purchases, adding them to your Shopping Bag in the usual way. When you've finished shopping, then click on the Shopping Bag.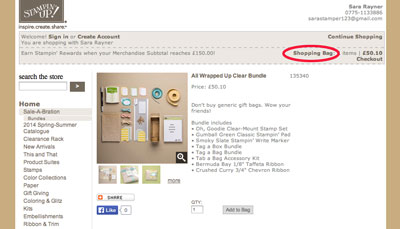 The Stampin' Up! store will automatically calculate whether you qualify for Sale-a-bration freebies and will tell you, under the Special Offers in the bottom left hand box. Follow the directions and click where it tells you to "CLICK HERE".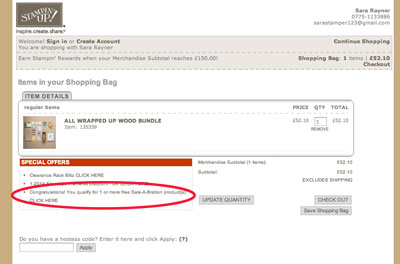 This will open up the list of Sale-a-bration goodies. Choose your goodie(s) by changing the number from a "0" to "1" (or however many you want if you qualify for more than 1) and clicking Select.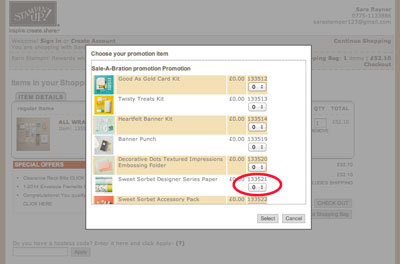 Finish your order and complete the purchase in the usual way.
I hope that this helps explain the process but if you have any questions, then please leave me a comment or email me and I'll find an answer 

Sara xx