A quick share today from a guest designer.
This was my valentine from my hubby – small, simple (at least on the outside) and very sweet.
Cards don't have to be elaborate to have an impact. I really appreciated that he took time to make this and that he designed and created it without any help from me.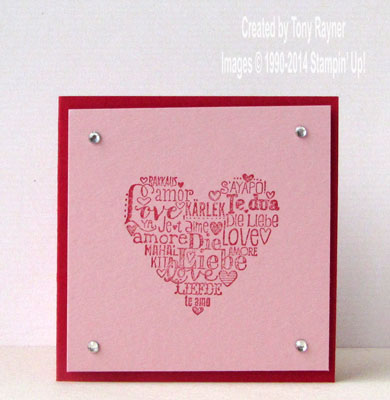 The card base is a small square of Real Red. Using Real Red ink, the large heart from Language of Love (Wood 133074 or Clear 133077) was stamped centrally onto Blushing Bride card and popped up on dimensionals on the card front. Basic Rhinestones (119246) were added to each corner.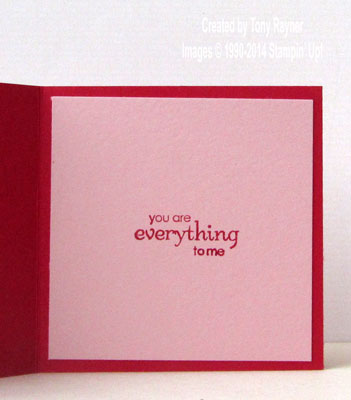 On the Blushing Bride insert, he cleverly rearranged the sentiment from Petite Pairs (Wood 128706 or Clear 122497) by using the Stamp-a-ma-jig (101049) and a Real Red Marker to selectively stamp the words. (The sentiment usually reads "for everything you are to me").
Strange how we both picked the Language of Love to create with (my valentine for him is here) … we wanna be togevver! 

Sara xx