Another masculine birthday card for you today. I think that although there's a dainty little bow on it, the fact that it's made with baker's twine rather than ribbon gives it the ruggedness it needs 

 what do you think?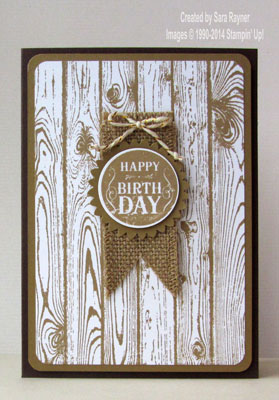 The card base is an A6 portrait of Chocolate Chip. Hardwood (Wood 133032 or Clear 133035) was stamped onto a panel of Whisper White card with Baked Brown Sugar ink and the corners rounded with the 3/16″ Corner (119871). This was matted direct onto Baked Brown Sugar card, also with the corners rounded and the layers were popped up on dimensionals on the card front. A length of Burlap Ribbon (132140) was snipped into a banner and frayed across the top before adhering to the card front. The sentiment from Blue Ribbon (Wood 131964 or Clear 125981) was stamped in Baked Brown Sugar ink onto Whisper White card and punched out with the 1-3/8″ Circle (119860). A 1-3/4″ Scallop Circle (119854) of Baked Brown Sugar was reinserted into the same punch, offset and punched again to create the mat for the sentiment which was popped up on dimensionals and then the layers adhered direct to the Burlap Ribbon. Finally a tiny bow of Gold Baker's Twine (132975) was knotted in the ends to prevent the gold thread from unravelling and adhered above the sentiment.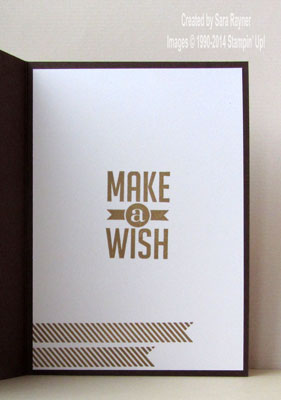 On the Whisper White insert, a sentiment and banners from the Perfect Pennants set (Wood 133227 orClear 133230) were stamped in Baked Brown Sugar ink.
Thanks for stopping by.
Sara xx