No – the card hasn't got six sides, it uses the Six Sided Sampler set – much easier 

Get well cards are one of those cards that I like to have in ready made, rather than make them at the time they're needed. By the time I get it made and posted off the person could be better (hopefully) 

So this one's to go in the box ready to be used.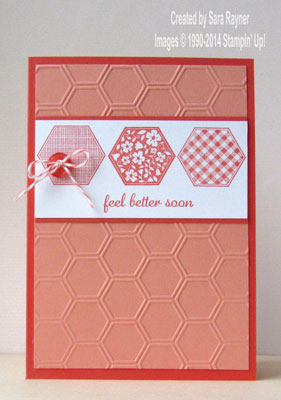 The card base is an A6 portrait of Calypso Coral, matted with Crisp Cantaloupe that was first run through the Big Shot in the Honeycomb folder (129378). Three different hexagons from the Six Sided Sampler set (Wood 130953 or Clear 130956) were stamped in Calypso Coral ink onto a panel of Whisper White, as was the sentiment from Express Yourself (hostess set  Wood 130336 or Clear 130339). I used the Stamp-a-ma-jig (101049) to line everything up perfectly.  The panel was adhered to a mat of Calypso Coral and adhered to the card front. Calypso Coral Bakers Twine (125573) was tied in a bow onto a Subtles Designer Button (130030) and added to the card front with Mini Glue Dots.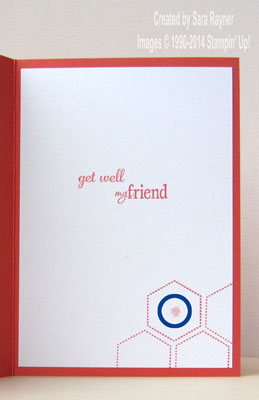 Oopsie!
I made a mistake when stamping the insert (see it above circled in blue)? I inked and/or stamped too heavily with my first hexagon and caught the centre. The first part of the sentiment is from the Express Yourself set and the second part of the sentiment is from the Six Sided Sampler set. All stamping on the insert was done in Calypso Coral ink.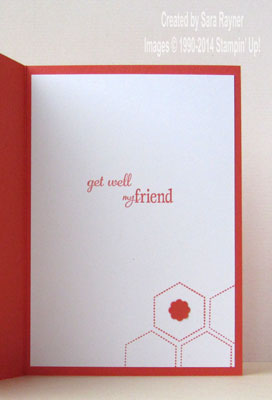 To cover my mistake I used an Itty Bitty flower (118309) punched from Calypso Coral card (I always tell my crafters how great this punch pack trio is, for covering little mistakes and smudges like this).
Hope that my mistake can help you out of a fix 

Sara xx