The concept of Project Life scrapbooking is that it's quick and simple. I decided to give that a test drive today.
At Christmas we went to Austria for a short break and we visited Swarovksi Crystal Worlds. It was an amazing place – beautiful grounds, clever and quirky exhibitions and a fantastic shop – all very sparkly of course and we took plenty of pix … which we haven't done anything about!
So, can Project Life get me out of that rut?
I chose a page protector from the Variety Pack Pocket Pages (135294) first (the top left in the pic below) so that I knew which way round I needed my photos (portrait or landscape).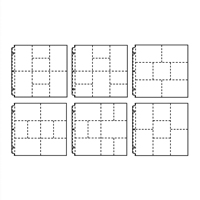 Then I printed my photos out on the home printer (choosing and printing then was definitely the longest part) and slotted them in to the page protector.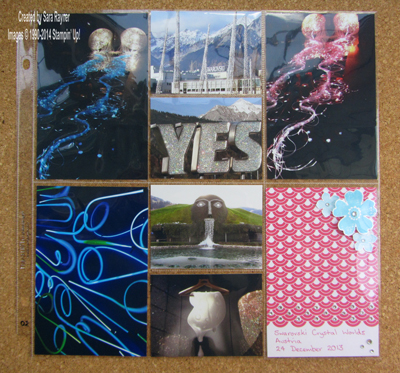 After selecting a card from the Everyday Adventure Collection (135298), I added a little bit of journalling with a Strawberry Slush marker and decorated with some Flower Shop (Wood 132727 or Clear 132726) and Petite Petal (Wood 134821 or Clear 134822) flowers and quite a few Basic Rhinestones (119246) (they're so very sparkly – just like the Swarovski crystals).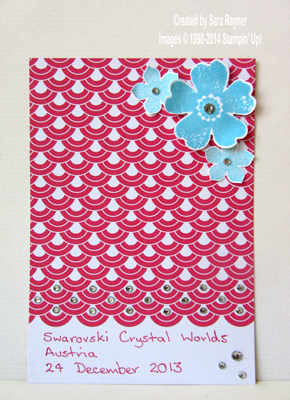 It took me around 10-15 min to put the page together. It really is that easy!
I think I'm converted. It will be a great excuse for hubby and I to look back through all our old photos.
Sara xx