This week I'm sharing gift giving ideas à la Stampin' Up!
Today – gifts for teenagers.
Teenagers aren't an easy group to buy for but many of them have a passion for recording what's going on in their lives. And they all love to get together with friends.
Retro Fresh Bundle – £15.95
Help them capture life's moments as they happen in this super easy, super cute journal with:
■ Debossed chipboard cover
■ 6-3/8″ x 8-1/16″
■ 29 coordinated spreads: 30 double-sided, printed sheets; 2 pocket pages; 2 envelopes
This bundle adds in theRetro Fresh Designer Stickers and the Retro Fresh Designer Washi Tape to match.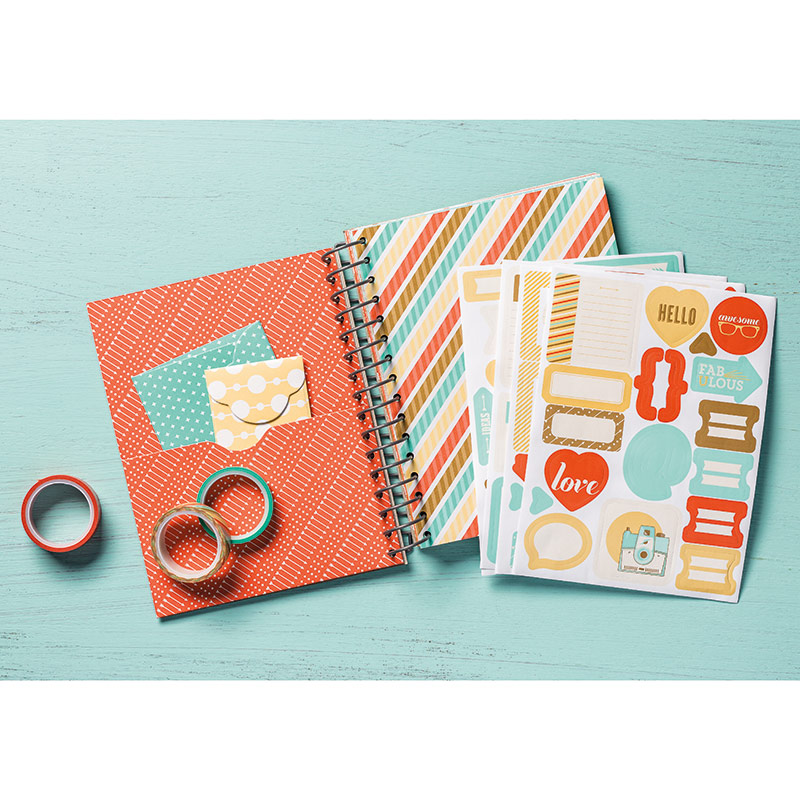 Want a different look? Try one of these bundles instead.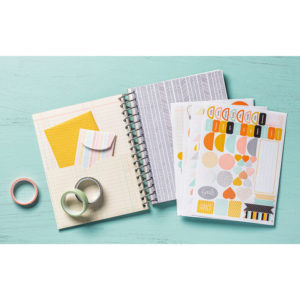 Epic Day Bundle – £15.95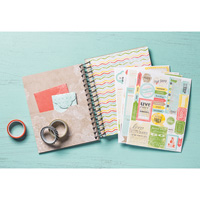 Documented Bundle – £15.95
Or why not help them get together with friends to celebrate a particular occasion. It could be a birthday, celebrating exam results or … just because. These kits make an ideal gift to help them get the party started.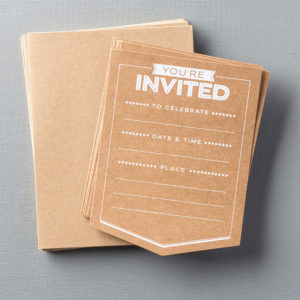 Celebrations Printed Invitations – usually £4.50 but just £3.38 until 25 November.
Printed invitations for any celebration. Coordinates with Celebration Basics Kit.
■ 10 Kraft invitations
■ 10 envelopes
■ Card: 4″ x 5-1/4″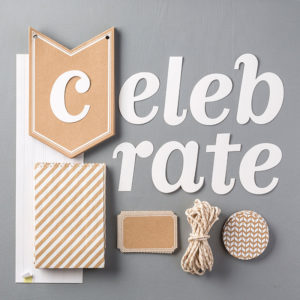 Celebration Basics  Kit – £13.50
■ 15 Kraft pennants, 4-7/8″ x 7-1/2″ ea.
■ Die-cut letters that spell "Celebrate"
■ 12′ of chunky Baker's Twine
■ 10 printed goodie bags, 5-7/8″ x 4″ ea.
■ 1 sheet of bag closures
■ 10 round printed tags, 2-1/2″ ea.
■ 20 perforated tags, 3″ x 2-1/4″ ea.

It goes together to create this smart party banner.
Add colour to the Celebration Basics Kit. Each add-on has these same elements but in different colours:
■ 4 sheets of 12″ x 12″ self-adhesive streamers—cut to fit
■ 12′ stitched garland
■ 2 sheets of die-cut accents, 1 sheet ea. 12″ x 12″ and 7″ x 12″
■ 12 sheets of 6″ x 6″ Designer Series Paper
■ Stampin' Spritzer for coloring streamers (use with Classic Stampin' Ink Refills, sold separately)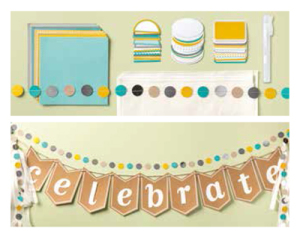 Go blue – with the Bermuda Bay Celebration Add-on kit, usually £8.95 but just £6.71 until 25 November.
or …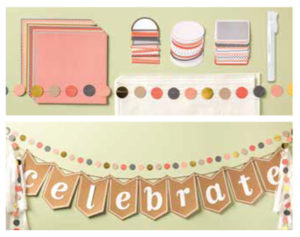 Go coral – with the Calypso Coral Celebration Add-on kit, usually £8.95 but just £6.71 until 25 November.
The banners don't have to be for a party of course, they could use them as room decor to go with posters or photos of anything they might want to celebrate 🙂
More gift giving ideas tomorrow.
Sara xx