Today's the final day of  gift giving ideas à la Stampin' Up!
I've saved the most important for last – gifts for you!
Wish List bonus box – £99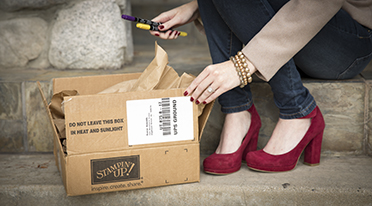 If you have a long wish list of Stampin' Up! goodies, then it really makes most sense for you to join our Paper Dolls team as your Christmas present. You get to choose up to £130 of any current product and pay just £99 (even better – check back tomorrow for a one week offer that makes it even cheaper and gives you cash back). Not only that, you'll get:
at least 20% discount on all your future Stampin' Up! orders (30% on your first one);
a chance to attend our monthly team meetings (face to face if possible, or on Facebook if not);
a sneak peek and chance to pre-order from the upcoming Spring/Summer and Sale-a-bration catalogues;
and that's just for starters. Want to know more about the perks? Email me or give me a call on 0775 1133886.
Join up here (wait until 25 Nov – 2 Dec for the best deal 🙂 ) and get friends and family to pay for your kit for you as your Christmas gift (they may make you wait until Christmas Day to unwrap it though, lol).
Too much? Then try our individual …
Wish List direct – £various

Download our Christmas Wish List and fill it in. Then leave it for your loved ones to find. Or, to make doubly sure, send it to me with your husband/partner's email address or phone number. I'll contact them and make arrangements direct with them. I'll even wrap the gift(s) and add a tag for them to sign.
Another choice …
Gift Certificate – £various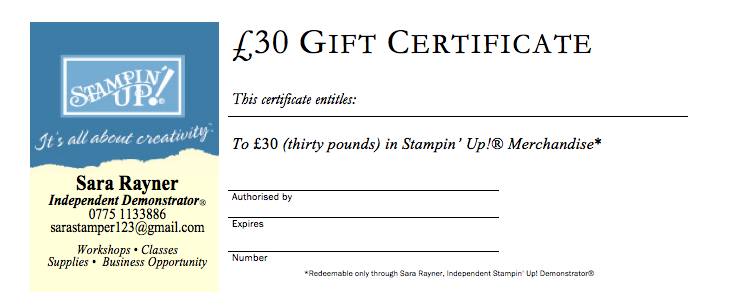 Give my details (email sarastamper123@gmail.com or phone 0775 1133886) to your loved ones and I'll send a gift certificate to them for you (or direct to you if they prefer). They just need to contact me with the amount and payment by cheque or Paypal.
Or you can simply direct them to our online store at www.sarastamper.stampinup.net to order direct!
Go on – you know you'll be on Santa's "Nice" list – get your friends and family to treat you 🙂
Sara xx