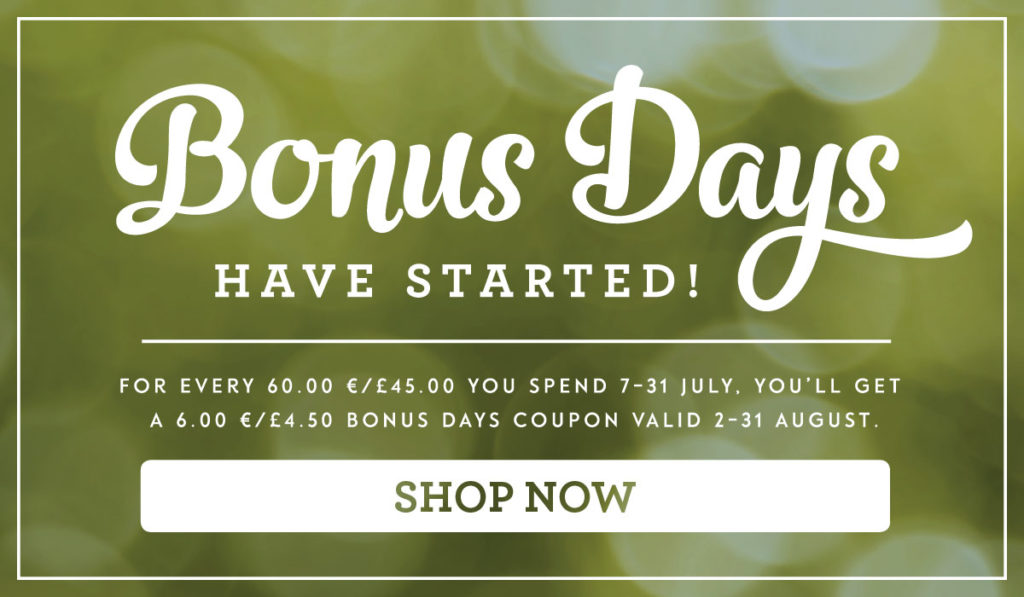 Did you get everything you want from the new annual catalogue yet? Since it only came out a month ago, you probably still have some items on your wish list, and I have some great news for you!
For every £45.00 you spend in between 7 July and 31 July (before shipping and handling), you'll get a £4.50 Bonus Days coupon that you can use 2–31 August. This is a great opportunity to shop from your wish list, whether you buy your favourite products now or later in August with your coupons!
Please note that an email address is required to participate in this promotion; Bonus Days coupon codes can only be delivered via email. And I strongly recommend that you both save the email you get containing your Bonus Days coupon codes AND write down the coupon codes in a safe place. Codes cannot be resent if the email is lost, and lost codes cannot be recovered (I won't be able to help you 🙁 )so best to be belt and braces 🙂
Tip – for absolute best value, put a bundle in your shopping cart – you save on the separate items now whilst also qualifying for your coupon next month!
Sara xx