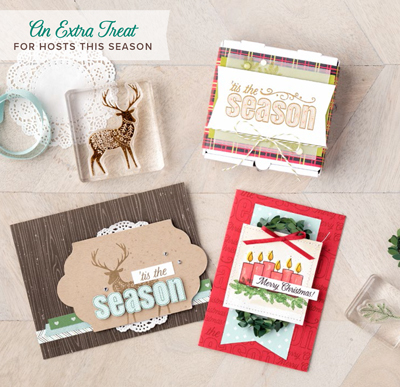 For a limited time we have an extra treat for our hosts. Whether you book it as a workshop/party/private class, whatever you prefer to call it, you can get the Merry  Patterns stamp set FREE when you host a party in September or October with £250 in sales. That's in addition to the fabulous Stampin' Rewards you get whenever you host a Stampin' Up! party.
BUT … you don't have to have a party to qualify. Online orders also qualify for this promotion, so if you're not a host but your order reaches the qualifying amount you will also earn extra Stampin' Rewards and the bonus stamp set.
The set is a two step set, with outline stamps and infill stamps, or you can stamp with the outline and colour the images yourself.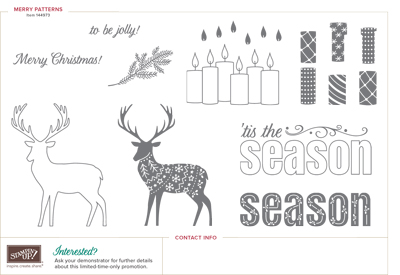 Here's a short video showing how they work.
This set is only available during the host promotion and orders must be closed by 10.50pm on 31 October.
If you'd like to book a party, virtual online party or other gathering, then please email me ASAP as my September diary is pretty busy!
Sara xx
P.S. The best deal in town is still the no obligation starter kit! £130 of product of your choice for just £99, plus free business supplies, plus free shipping! Then you if you choose to put any more orders in after, that you'll get a minimum of 20% discount whether those orders are simply for yourself, for friends and family or any customers you may build. To get your starter kit, sign up now!.