Wow! We have been needing one of these for sooo long. Stampin' Up! took their time to get this right though and it is amazing!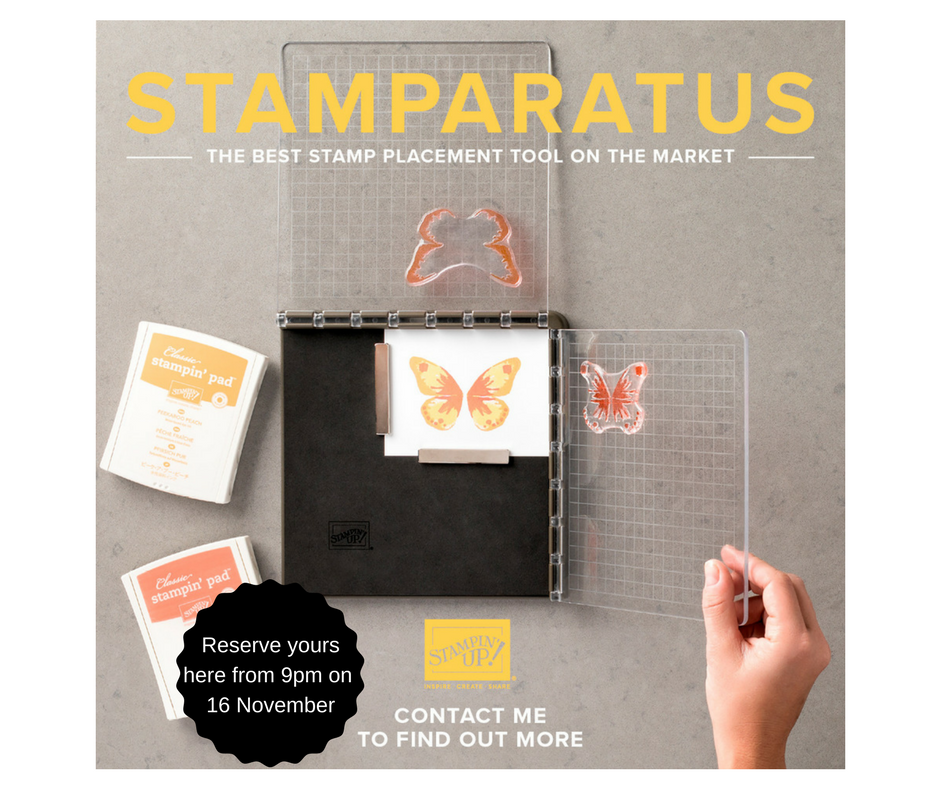 This fantastic stamp tool has been developed by a volunteer team of experienced demonstrators and takes the other stamping tools on the market a step further!
As well as:
making multiples with ease,
restamping an image to make it crisper,
easy positioning for 2/3/4 step stamping,
rulers and grids for lining up
designed for use with with both clear and photopolymer stamps,
the stamparatus also has:
2 open sides so you can stamp on larger paper
2 reversible plates: a total of 4 surfaces to work with
magnet storage areas
retail price–59,00 €/£44.00
Take a look at the video to get a better idea.
With the launch of this tool, SU! are trying something different: testing a new reservation system. And it acts like a true pre-order. You reserve your spot and they guarantee shipment as soon as the product arrives in the warehouse.
The reservation window opens at 9:00 p.m. (GMT) on 16 November for shipping around 1 February 2018. I'll share the reservation link here on this website as soon as possible once the window is open but if you're interested please reserve quickly as the window will only be open until 30 November or WHILE SUPPLIES LAST! (I don't expect it will make it through to 30 November). If supplies are gone then you have to wait until the next reservation window. The reservation windows are:

The following Q&A should help to answer any questions about the reservation system but if you have any unanswered questions then please email me.
Customer Stamparatus Reservation Questions
Q: How do I reserve my Stamparatus?
A: Normally you order Stampin' Up! products through the online store; in this case, you will click the RESERVE link on the Stamparatus page (which I'll share as soon as it's available) which will take you to the reservation page.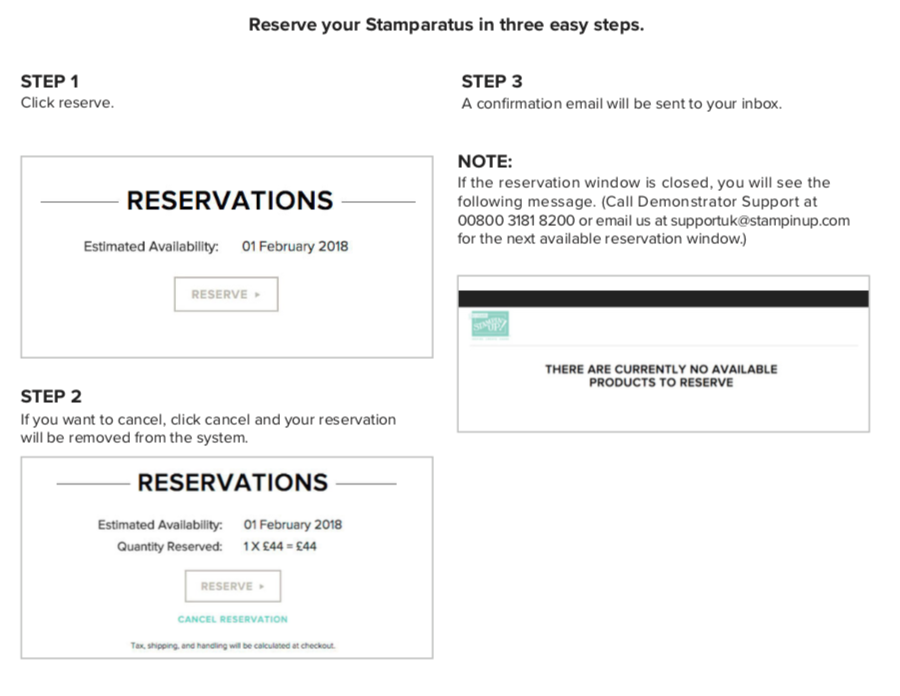 Q:What if I do not have a Stampin' Up! customer account?
A: To reserve a Stamparatus, you must have a customer account. To create one, click Create Account on the online store.
Q: Why does it take so long for the Stamparatus to ship?
A: We will place an order with the manufacturer based on how many reservations are made during any given reservation window. Shipping dates depend on how long it takes the order to arrive in our warehouse after the tools have been manufactured.
Q: Am I billed at the time I reserve my Stamparatus?
A: No, though you will need a credit card to make the reservation. You will be billed when you finalise and close your order.
Q: When will I be charged for the Stamparatus?
A: When inventory arrives in the warehouse, we will add your reservation to a shopping cart. We will then send you an email notifying you that your Stamparatus order is ready. At this time you will pay for and finalise your order.
Q: Will I be able to add other products to my Stamparatus reservation?
A: Not at the time of the reservation. However, once your reservation is transferred to your shopping cart, you will then be able to add other items to your order.
Important note: Please do not delete the Stamparatus from your order. We will not be able to add it back and you will lose your reservation.
Q: Will I be able to update my address when I open my shopping bag to complete my order?
A: Yes.
Q: What if I change my mind and want to cancel my reservation?
A: You can cancel your reservation at any time.
Q: Will the tool be available in the 2018–2019 annual catalogue?
A: Yes. Once the annual catalogue ordering period begins, you will be able to order the Stamparatus as you would any other product. Reservations will no longer be required, and there will be no limit on the number of tools you can order.
Q: Once the Stamparatus has been added to my shopping cart, how long will it stay there?
A: Indefinitely. As with all products, it will be subject to temporary interruptions in availability depending on demand.
 Q: When I close my order, can I take advantage of current Stampin' Up! promotions?
A: Yes.
Q: Can I participate in all three reservation periods?
A: Yes.
Q: How many stamp placement tools can I reserve per reservation window?
A: For customers, there is a limit of 1 per reservation window.
As I said, if you still have any unanswered questions then please email me.
I'll be back with the reservation link as soon as possible.
Thanks for stopping by.
Sara xx