This stamp positioning tool is amazing! The first reservation window sold out within 15 minutes!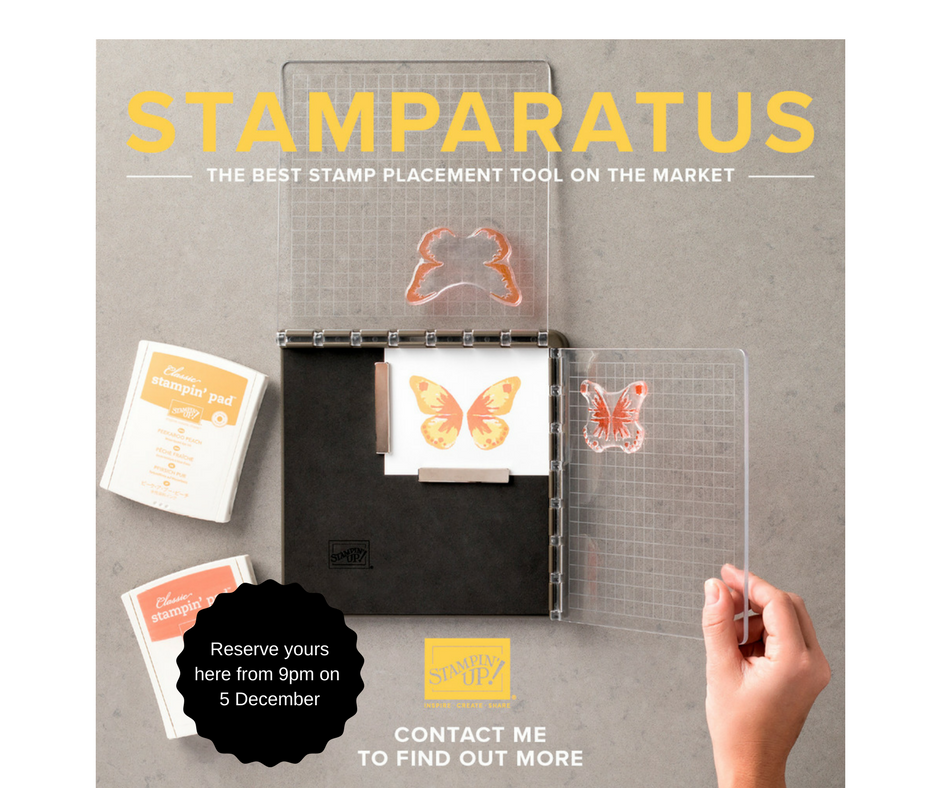 The second (and now final) reservation window to pre-purchase the Stamparatus  will open at 9pm tomorrow (Tuesday 5 December).
This time around though, rather than have so many disappointed people unable to reserve theirs, Stampin' Up! will take as many orders as they receive, no cut-off, until 31 December 2017. Then, beginning 19 March 2018, they will ship Stamparatuses in the order the reservations were received (first in, first out) and continue through the next few months and beyond, as product arrives in the warehouse. So, I would still recommend ordering early if you can, otherwise you may have to wait until April or possibly even later, to receive your Stamparatus.
Since SU! are leaving the second reservation window open for an extended period, there will no longer be a third reservation window in January as previously advised. After 31 December your next chance to order the Stamparatus will be when next annual catalogue comes out around June next year.
You don't get billed for your Stamparatus until it ships and you can change your mind and cancel your reservation at any time – so you have nothing to lose in placing your reservation tomorrow night.
In case you missed it the first time around this is why the Stamparatus is so great:
make multiples with ease,
restamp an image to make it crisper,
easy positioning for 2/3/4 step stamping,
rulers and grids for lining up
designed for use with with both clear and photopolymer stamps,
the stamparatus also has:
2 open sides so you can stamp on larger paper
2 reversible plates: a total of 4 surfaces to work with
magnet storage areas
retail price–59,00 €/£44.00
Here's a video showing what the Stamparatus can do.
Interested?
Just pop back here from 9pm tomorrow night to order direct.
Sara xx