Hope you're having a good weekend.
I've been busy making some little gift boxes ready for our stand at the Elsecar Heritage Centre Art and Craft Fair on 20 and 21 August (see the calendar for more details).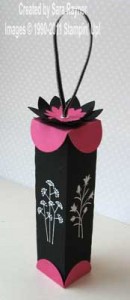 Recipe
Stamp set: Pocket Silhouettes (W111672)
Cardstock: Basic Black (121688), Melon Mambo (119980)
Ink: Versamark (102283)
3mm Taffeta Ribbon: Basic Black (119261)
Punches: Petal Card (119273), 5-Petal Flower (119880), Boho Blossoms (119858)
Other:  White EP (100963), Metallic Eyelets (105319)
Tools: Heat Tool(110197), Embossing Buddy (103083), Crop-a-dile (108362)
Non-SU: Velcro
The box is cut to 4-3/8″ x the height you need it to be (in this case 4-1/2″) and then scored at every inch. It was stamped in Versamark and heat embossed with White EP before assembling. One of the Petal Cards was fully adhered around the base of the box. Punched flowers were secured to the middle of another Petal Card with an Eyelet, using the Crop-a-dile. This was then adhered to the open top of the box using only one of the flaps. Ribbon was threaded through the Eyelet and tied in a knot and a tiny square of velcro was added as a closure.
Here's what's inside – a little pair of illuminated eyebrow tweezers – a great girlie gift.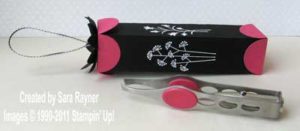 And a few other versions using alternate colours and stamps: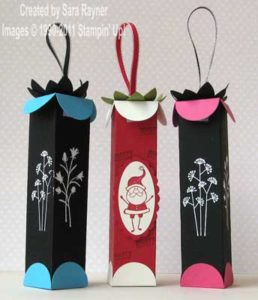 I'm off to a wedding tonight and need to finish a money wallet for presenting a collection to the bride and groom. Better get to it 🙂
Enjoy the rest of your weekend.
Sara xx