I've got a pack of treat cups out on my work desk (a.k.a. dining room table) ready for a few Christmas cards and had a thought about how they could also be used to make some quick tree decorations.
I used two treat cups back to back for this one because the chocolate snowballs are a bit bulky but you could just as easily cut another medallion from acetate and use it to back the treat cup if you're using smaller treats.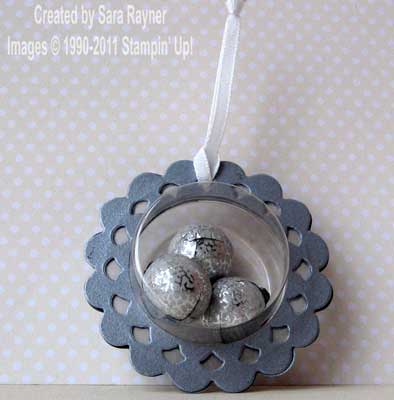 Recipe
Cardstock: Brushed Silver (124918)
Punches: 1-3/4″ Circle (119850)
Bigz L Die: Perfect Pennants (123126)
3.2mm Taffeta Ribbon: Very Vanilla (119960)
Other: Circle Treat Cups (116802)
Non-SU: Chocolate snowballs
Tools: Big Shot (113439), Crop-a-dile (108362)
The chocolate snowballs were put into a Circle Treat Cup and the backing seal was peeled off both is Cup and a second one before adhering them together with the chocolate trapped in between. Using the Big Shot and the Perfect Pennants Die, two Brushed Silver large scallop medallions were cut (at the same time). A 1-3/4″ Circle was punched from the centre of each medallion and they were adhered together over the top of the Treat Cups. The Crop-a-dile was used to punch a small hole through the edge of the decoration which was then threaded with ribbon for hanging.
Here's the view from the side: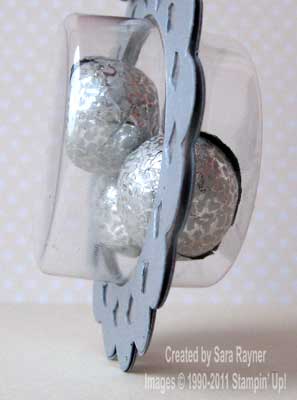 Yummy!
Sara xx