I'm slightly later than usual posting today. It's my MIL's birthday on Monday and so we've had a family day together today to celebrate. Of course that meant crafting for me and MIL. We've been busy getting our swaps ready for the team meeting tomorrow. I'll share my swap tomorrow.
For today I've got the gift bag that I made to hold MIL's gift. I know, it's that flower again. I can make other variations on it honest, lol. Guess I'll have to prove that soon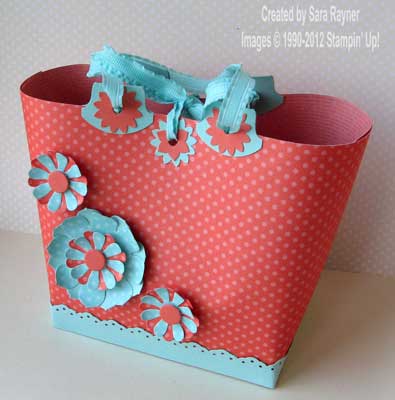 Recipe
Cardstock: Calypso Coral (124392), Pool Party (124391)
DSP: Patterns DSP 2011-2013 In Color Assortment (122384)
Punches: Boho Blossoms (119858), Round Tab (119864),
Ruffled Ribbon: Pool Party (122975)
Originals Dies: Blossom Party (115971)
Tools: Big Shot (113439), Crop-a-dile (108362)
This bag is a variation of the bag in a box pattern that's easily available on the internet. I resized it to hold the gift I have and decorated it with the blossom Party flowers again. As the bag is wider than usual, I added a central flower motif threaded with ribbon and tied in a bow to keep it closed and keep MIL from peeking.
Have a great weekend.
Sara xx