I've been busy today making these little Easter baskets ready for the Craft Fair at Langsett Barn on Sunday. This is a dinky little one that just holds a choccie chick and a few mini eggs but it can easily be resized to hold bigger chocs.
I'll be back tomorrow with a quick tutorial for the basket itself but here is the recipe for the rest.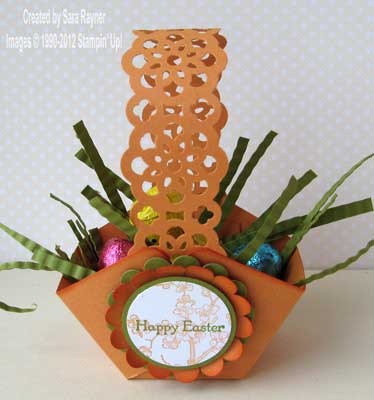 Recipe
Stamp sets: Easter Blossoms (W121905 or C122057), Teeny Tiny Wishes (W115370)
Cardstock: Peach Parfait (121692), Old Olive (106576), Whisper White (106549)
Ink: Tangerine Tango (111834), Old Olive (102277)
Punches:  Corner Rounder (119871), 1-3/4″Scallop Circle (119854), 1-3/8″ Circle (119860), 1-1/4″ Circle (119861), Lace Ribbon Border (122362)
Tools: Crimper (101618), Sponge Daubers (102892)
The basket was made from Peach Parfait card, stamped at each end with the Easter Egg and sponged round the edges, all with Tangerine Tango ink. The blossom stamp was inked with Peach Parfait ink, stamped off, then stamped onto Whisper White card. After stamping the sentiment over the top with Old Olive ink, it was then punched out with the 1-1/4″ Circle and matted onto a 1-3/8″ Circle of Old Olive card. Scallop Circles were punched from Old Olive and Peach Parfait. The Peach Parfait flower was snipped between the petals, sponged around the edges as before and adhered direct to the Old Olive flower. After popping up the stamped circles in the centre of the flowers with dimensionals, they were added to the sides of the basket with more dimensionals. The crimper was used with Old Olive card strands to create the grass lining.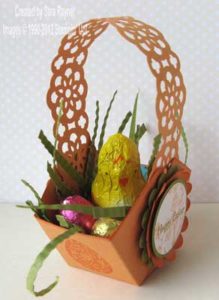 Here's the view from the side.
Have a great weekend and if you can pop in at the craft fair on Sunday, it would be lovely to see you.
Sara xx