Hubby and I share the tasks in our house – haha, not really! – but since DH made the card for Mari, I made her gift bag. Mari loves bags and boxes and she loves bright colours, so I took some of the Big Top Birthday DSP as the basis for my colour combo.
And as Mari is a VIP I made her bag extra special by adding bling using the Glimmer Paper and Brads.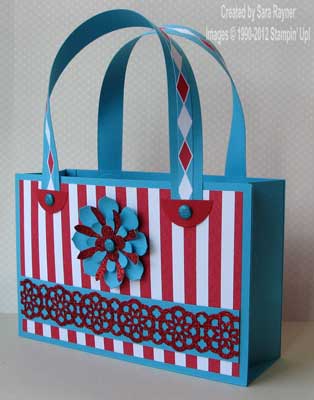 Recipe
Cardstock: Tempting Turquoise (108598), Real Red (106578), Red Glimmer Paper (121790)
DSP: Big Top Birthday (122348)
Punches: Lace Ribbon Border (122362), 1-3/8″ Circle (119860)
Originals Die: Blossom Party (115971)
Other: Brights Glimmer Brads (121006)
Tools: Big Shot (113439), Paper Piercing Tool (116631)
The bag and handles are made from Tempting Turquoise card. Two different patterns of Big Top Birthday DSP were used to decorate the front and back bag panels and the handles. The handles were adhered to the bag with Multipurpose Liquid Glue, covered with a semi-circle punched from Real Red card and then further strengthened by securing a Tempting Turquoise Glimmer Brad through all the layers. To keep the inside of the bag tidy and prevent anyone accidentally scratching themselves on the brad legs they were covered with circles punched from Tempting Turquoise card. Red Glimmer Paper was punched with the Lace Ribbon Border, adhered to a slightly wider strip of Tempting Turquoise card and then to the front of the bag. For the bright flower, the largest flower and small daisy were die cut from Tempting Turquoise card using the Blossom Party die. The long petaled and four petaled flowers were die cut from Red Glimmer Paper using the same die. All these flowers were shaped, layered together and secured with another Glimmer Brad, before popping the full flower up on dimensionals on the front of the bag.
Mari loved the bag and has added it to the collection that she's kept from other high days and holidays 

A successful Mother's Day on all fronts.
Sara xx