Yes, we have a huge change to the Starter Kit – from 1 May, we're going to be offering a fully customisable Starter Kit for new recruits at a new lower price of £99!
When you join Stampin' Up! on/after that date, the choice will be yours to put together a kit with any of our current high-quality products–you can choose up to £130 worth of any Stampin' Up! products. Make it a cardmaking starter kit, a scrapbookers starter kit, a Big Shot starter kit … in other words, make it your starter kit! You'll also receive a business supplies pack (valued at £45) to create a kit with a total value of £175 that still ships for FREE!
This change will mean lots more flexibility for everyone and is especially ideal for those who might already have bought some of the kit contents or who want products other than stamps (eg. punches or dies).
Now whilst the new kit is a more affordable starting price, great value (up to an extra £30 of products for free) and the flexibility is fantastic, there's still a few days left for you to bag the brilliant bargain that is our current starter kit.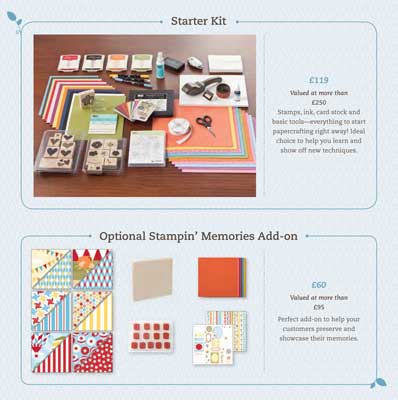 With the current starter kit, available until Monday afternoon, (but we need to get paperwork sorted before then!) you can get a whopping £235 of products plus the business supplies pack (making it over £280 total) for just £119!
A full breakdown is shown below.  This kit also ships for free and is partly customisable – items shaded green can be swapped for alternative stamp sets/colours etc!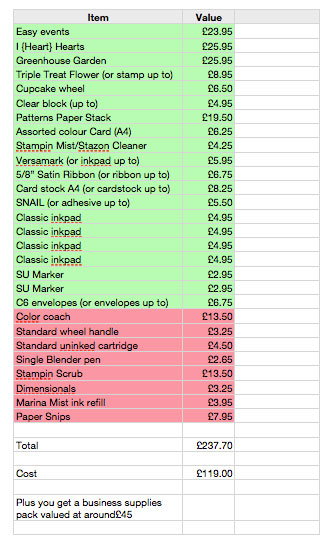 Anyone wanting to order this current kit option will need to get the paperwork completed and to me by Sunday evening so that I can be sure of getting it to Head Office before the change takes place. The good news is that we can do it by scanning and emailing.
There's more information on all the benefits of getting the starter kit and joining the Stampin' Up! team, here.
If you're interested in getting either the current or the new starter kit then please email me or give me a call on 0775 1133886 as soon as you can.
Sara xx