A late post today as I've been out all day at our Summer Stamptacular … I'm still buzzing' heehee.
It was a great day. Hard work and we packed a lot in but sooo much fun!
Anyhow, I have a quick share for you. I made this little box as a door prize at a recent workshop.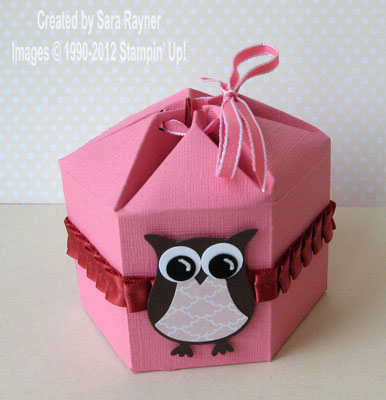 The hexagonal box is made with two of the Mini Milk Cartons cut from Regal Rose Textured Card. It was trimmed with the Riding Hood Red Pleated Satin Ribbon (125569) (which won't be available after 31 August so order it soon if you want it) and fastened with 1/8″ Taffeta Regal Rose Ribbon. An owl made from the Owl Builder punch (118074) and Twitterpated DSP (125406) decorated the front, with a sentiment on the back and sweeties inside 

Got something cute to add to the owl builder soon so make sure you stop back again after 1 September 

Have a great weekend.
Sara xx